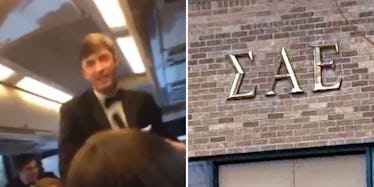 Why Abolishing Greek Life Won't End Racism
University of Oklahoma's Sigma Alpha Epsilon (SAE) fraternity has been in the national spotlight after a video surfaced of a few fraternity members shouting a racist chant aboard a party bus.
The OU chapter, which has since been disbanded by SAE national headquarters, planned to have Waka Flocka Flame perform in 2015. However, the rapper has decided to cancel the upcoming performance.
When interviewed about his performance the previous year for the chapter, he said the members made him "really [feel] like [he] was down with the fraternity, like [he] was SAE," and that he was "disgusted with the fraternity [members]" for their hypocrisy.
This incident has sparked much debate over the existence of Greek organizations, and support to abolish the Greek system is in high favor.
However, the problem is not that Greek life (which covers a range of groups from the Latino Panhellenic Council to the National Panhellenic Council, to the Texas Asian Panhellenic Council to professional fraternities) exists.
Organizations are simply just a way to group people together. Even though the OU SAE chapter was disbanded, the beliefs or ideas held by certain fraternity members may remain.
Organizations and groups collect individuals with similar mindsets, no matter which label they fall under. Greek systems are uniquely bound to Title IX and the Clery Act.
Removing Greek life would remove the responsibility and accountability sororities and fraternities owe to the Interfraternity Council, or IFC.
Eradicating the medium of fellowship does nothing to resolve the root issues at hand, like racism, sexism and discrimination.
What would happen if Greek organizations were to be abolished?
Consider the case of a rogue University of Texas at Austin fraternity, which, upon violating its order's principles, was suspended in 2011 by its headquarters (much like OU SAE).
The ex-members reorganized themselves as a "nonprofit organization" without fraternity property. As such, they were subject to less stringent restrictions, outside of IFC jurisdiction. If anything, this was marked retrogression, as opposed to intended progress.
In essence, not much had changed. The men simply regrouped under a new name.
Dissolving fraternities and sororities on college campuses could result in the same situation. That's why addressing education and beliefs rather than the topical issue will affect change.
Lest we forget, there is a similar trend of prejudice and miseducation in a concurrent national issue: civilian law enforcement relations.
Thus, the OU SAE incident is a deeper issue than a few frat boys chanting racist lines. It is but one event (which happens to be Greek-affiliated) in a broader spectrum of discrimination in America.
Recall Waka Flocka Flame's reaction to the OU SAE incident: He was shocked and surprised by the members' abhorrence of black men joining their fraternity when he had been so warmly received last year at their party.
The duality presented is this: Waka Flocka Flame, the famous hip-hop persona, is welcome by the members; however, Juaquin James Malphurs (Waka's birth name), the black man from Atlanta, Georgia, is not.
Black culture and its appropriation is a popular malpractice by Americans today -- "Greek" or not, from high fashion to pop stars to slang terms -- but acknowledgement of its originators remains glancing at best.
And, consider this: The 10-second clip uploaded to YouTube of the OU SAE members has garnered 3 million views in less than a week; yet, the most-viewed video (uploaded by CNN) of Michael Brown's shooting has 2.7 million views in the seven months it has been online.
Though video views are not the sole means of measuring an issue's relevancy to the public, it's a tangible and alarming tell of what "matters" to people.
Disciplinary action has already taken place against the two OU students and their chapter; on the other hand, events are still unfolding months after Michael Brown's death in Ferguson, MO.
OU President David Boren's expulsion of the two SAE members has been praised around the nation; yet, the Justice Department's recent investigation into Ferguson's police department, which uncovered emails containing racist jokes and orders selective profiling against minorities, has made smaller waves in the national scene.
If the objective behind dissolving Greek systems is to "eliminate discrimination, injustice and prejudice," we are obliged to address discrimination, injustice and prejudice on all fronts: cultural appropriation, police discrimination and gender/sexuality/racial stereotypes perpetuated by the media.
Removing the guise under which America's ugly legacies of discrimination hide does little to address the central issues.
Our approach must change from confronting the topical layer to changing the core.
We must not eliminate organizations, but rather, educate and discipline erring individuals (of all backgrounds).
We should not have a war between civilians and law enforcement, but establish greater accountability and better relations. Rather than appropriating other cultures mindlessly, we can acknowledge cultural roots.
All in all, abolishing Greek life will not change the issues affiliated with some of the organizations. If anything, it would be a superficial fix for the deeply-rooted slew of issues that are present in other contemporary events, like police brutality and cultural appropriation.
Greek organizations are held accountable by their national headquarters, campuses and IFC; disestablishing fraternities and sororities altogether could result in more loosely-regulated groups.
Changing individuals' attitudes is the only way to end discrimination so that if any person were to join any type of organization, he or she would not be influencing personal ideological baggage.
It is much easier to unite against a "common enemy" than to address what lies within all of us: our own thoughts and prejudices.
If we unite to change our attitudes, we will change more than the issues associated with Greek life.
We are stronger together than fighting one another, after all.
Citations: University of Texas Kappa Alpha fraternity sued (Daily News), Waka Flocka Flame on racist rant I was disgusted (CNN), Fraternity Slams the Breaks on Rogue Chapter (Courthouse News Service)