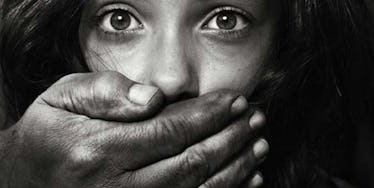 7 Things Everyone Needs To Know About Human Trafficking
Malaysian authorities recently uncovered 139 graves containing suspected victims of human trafficking following a nearly two-week operation, according to the Associated Press.
These graves were scattered across various jungle camps along the Malaysian-Thai border, isolated yet relatively near a major trading route. This new discovery follows the finding of dozens of graves just across the border in Thailand earlier in May.
Human trafficking is a lucrative and thriving business in Southeast Asia.
In addition to being held for ransom, victims — most often women and children — are sold to the highest bidder.
Impoverished citizens and desperate migrants provide a large pool of choices for trafficking rings. In some places, women are even sold by their own family members for their virginity.
While the problem of human trafficking is often highlighted in third world countries, it's a growing issue in the United States and other first world nations, as well.
We cannot ignore the startling facts that reveal the true enormity of this issue, nor can we forget the work being done to end human trafficking both nationally and globally.
Here are seven things you need to know about the state of human trafficking today:
21 Million People are Trafficking Victims
In 2012, the International Labour Organization estimated that 21 million people around the world are victims of forced labor.
The Asian-Pacific region had the highest number of victims at 11.7 million. Although this is the highest reported estimate, some argue the number of victims worldwide could be as high as 60 million.
Women Are Sometimes Trafficked by Other Women
According to a Global Report on Trafficking in Persons by the United Nations Office on Drug and Crime (UNODC), women make up the largest portion of traffickers in 30 percent of the countries which provided trafficker gender information.
Perhaps, the most well known female trafficker is Cheng Chui Ping, also known as "Sister Ping," who smuggled thousands of poorly treated "customers" to the United States before her conviction in 2005 and death in 2014.
Men Account for Nearly Half of Trafficking Victims
Although females make up almost 100 percent of sex trafficking victims, sex trafficking only accounts for 4.5 million of the previously mentioned 21 million total trafficking victims globally.
The most common form of human trafficking is forced labor exploitation, of which males make up 60 percent of the victims. In all categories of human trafficking, males account for 45 percent of the 21 million victims.
California is the Leading State for Human Trafficking Cases
In 2014, California had 912 reported cases of human trafficking, more than doubling the next highest state of Texas, which had 452 cases.
As of the end of March, California has had 223 reports thus far in 2015, according to the National Human Trafficking Resource Center. After California and Texas, Florida and New York also maintain high trafficking reports.
Gangs and Cartels are Forgoing Drugs for Humans
Increasingly, gangs are turning to human trafficking as a source of revenue.
While drugs can only be sold for a one-time profit, humans can be used and sold repeatedly to generate a higher revenue for traffickers.
According to one 2013 report, sex trafficking victims brought to New York from Mexico were forced to have sex over 20 times a day, each time with a different paying customer.
The Justice for Victims of Trafficking Act Passed on May 19
The bill made it out of Congress with a nearly unanimous vote and is expected to be signed by President Obama.
It will expand on laws already in place to provide more tools and funds for law enforcement to police sex traffickers, and it will include the production of child pornography as a form of trafficking.
This bill follows numerous other laws in recent years designed to combat human trafficking.
Reports of Human Trafficking Have Increased
While human trafficking remains a large issue both in the US and around the world, heightened awareness and education on the problem has yielded higher reports in America.
In 2012, 3,279 cases of human trafficking were reported. In 2014, that number jumped to 5,042, an increase of over 50 percent.
Possible signs of human trafficking include, but are not limited to, working long and unusual hours, having a fearful or anxious attitude, a lack of personal possessions and a lack of control over money or personal identification documents.
For a full list of red flags, visit the National Human Trafficking Resource Center's website.