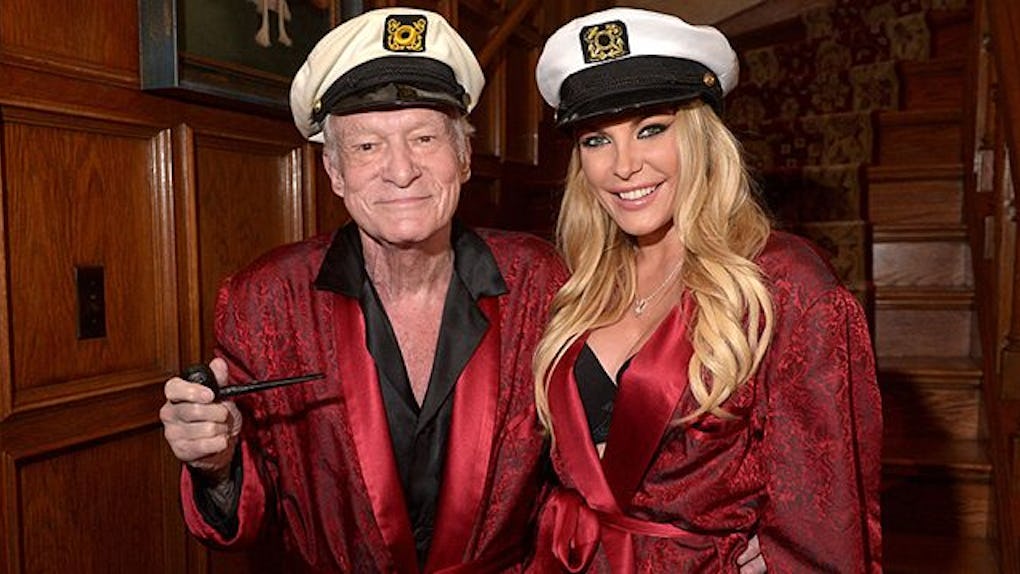 Charley Gallay/Getty Images for Playboy
Who Were Hugh Hefner's Wives? Here's A List Of The Playboy Legend's Marriages
There are a few things that are likely to first come to mind when thinking about the late Hugh Hefner's legacy. First, of course, there's the magazine he founded, Playboy. But then's there's the second: the women who were Hugh Hefner's wives and girlfriends throughout his sixty-plus years as Playboy editor-in-chief.
While the amount of girlfriends is, frankly, too vast to keep track off, the list of women Hefner took to the altar is much shorter. The media mogul, who died on Wednesday, Sept. 27, at the age of 91, wedded three women.
Here's a run down of each marriage:
Mildred Williams
He tied the knot with the first of those women, Mildred Williams, in 1949, when he was working as an assistant personnel manager for the Chicago Carton Company. Williams was a student at Northwestern University, where Hefner attended graduate school for a short period of time after earning his bachelor's degree at the University of Illinois, according to a timeline drawn out by Playboy.
Williams and Hefner had been in a relationship for some time before they were married, in fact. According to The Hollywood Reporter, Williams told Hefner before they'd tied the knot that she'd cheated on him while he was serving in the army -- his service was carried out between 1944 and 1946, per Playboy's timeline.
According to the New York Times, the affair happened between Williams and a high school coach, while she was engaged to Hefner. In 1953, four years into his first marriage, Hefner founded Playboy. During their union, Williams allowed Hefner to sleep with other women in attempt to "lessen her guilt," THR says.
The marriage nevertheless ended in divorce in 1959. Hefner and Williams had two children together, David and Christie. The latter was his first child and would eventually serve as an executive at Playboy.
Kimberley Conrad
After his divorce, Hefner married again in 1989. This time he married a Playboy playmate, Kimberley Conrad, who was nearly 40 years younger than him, according to the New York Times.
In a 2011 interview with the Times, Hefner said he'd married the model as a means to seek "safe harbor from the waves." Hefner said,
I was not well, and I felt my years. I felt much older then than I do today.
Hefner also "emphatically" asserted during that interview that he was faithful and she was not. Hefner and Conrad would eventually break up in 1998, but they didn't officially divorce 'til 2010. After the breakup, Conrad moved out of the Playboy Mansion and into a home next door with the couple's two sons, Marston Glenn and Cooper Bradford, according to The Hollywood Reporter.
In a press release about Hefner's death, Cooper said,
My father lived an exceptional and impactful life as a media and cultural pioneer and a leading voice behind some of the most significant social and cultural movements of our time in advocating free speech, civil rights and sexual freedom. He defined a lifestyle and ethos that lie at the heart of the Playboy brand, one of the most recognizable and enduring in history. He will be greatly missed by many, including his wife Crystal, my sister Christie and my brothers David and Marston and all of us at Playboy Enterprises.
Crystal Harris
Hefner married one last time in 2012. This time, the marriage happened between he and another playmate, Crystal Harris, who was 60 years his junior. In 2011, the pair experience a bad breakup that was followed up by Harris giving an interview to Howard Stern, during which she aired out Hefner's dirty laundry.
During the interview, Harris called Hefner a two-second man. For his part, the Playboy founder responded on Twitter.
Regardless, the two married a year later, and stayed wedded until his death was reported on Wednesday night.