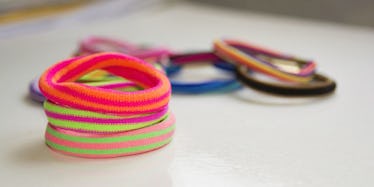 Woman Got Insane Life-Threatening Infection From Hair Tie On Her Wrist (Video)
Getty Images
THIS VIDEO IS 100 PERCENT PROOF WE ARE ALL ON THE CUSP OF DYING NO MATTER HOW HARD WE TRY NOT TO HAVE OUR WRISTS' PUSS EXPLODE SO HARD OUR HEARTS STOP WORKING.
You ever think to yourself, "Everything is trying to kill me," but nobody believes you? Good, me too.
Well, I have good/terrible news for you. You can now send everyone you know this one disgusting video to show you aren't crazy and everything in this world is made to murder you eventually when you least expect it.
Audree Kopp barely got out of this brutal assault from her hair tie alive. Luckily, the bump on her wrist from the hair tie was only an infection from bacteria. Who knows what could happen next time.
Watch this video, and educate yourself. You're a walking time bomb, and the big hand is about to hit zero.
Citations: Doctor says hair tie caused infection on woman's wrist (KOAT-TV)