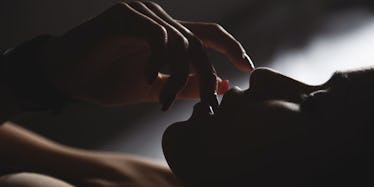 Woman Sues Porn Company After Unknowingly Giving Her Brother A Blowjob
Anonymous sex through a hole in the wall should be a risk-free endeavor, but leave it to sneaky porn producers to ruin one of America's favorite pastimes.
When siblings and professional porn actors Madeline Madison and Chuck Tang reportedly booked a gig with Come-And-Go Productions titled "Milk Maids 2," neither of them expected to run into each other on set.
While I am not familiar with the previous "Milk Maids" film, there seemed to be nothing about the original that suggested Madison would be unwittingly performing fellatio on Tang through a glory hole, which is perhaps why the actress was so willing.
In an interview, Madison allegedly claimed,
The producers wouldn't let me meet the man I was sucking off beforehand, which I found odd, because normally we always meet and greet our scene partner. I like to make an emotional connection with my fellow actor before a scene. I even try to quickly fall in love with them, if I can, as it makes my job so much easier for me if I'm truly in love with the man I'm about ready to f*ck.
Despite the fact that there was supposedly no meet-and-fall-in-love for Madison on the set of "MM2," the brother-lover insisted she had no idea the company would lead her unknowingly into an incestual scene.
She reportedly continued,
The company doesn't show real incest with past titles, but with me and my little brother being known, they've now caught real incest on camera which will make them billions in Japan. The Japanese love incest.
Madison allegedly said this one day of work affected her entire existence, explaining,
I only got $100 dollars for my scene and I'm going to suffer a lifetime of emotional distress requiring costly psychological and psychiatric help. I've even lost my sobriety. I'm eventually gonna need to pay for rehab, in a couple years. I can't even look my brother in the eye. My life is ruined.
According to Come-And-Go, Madison, who is seeking $3.2 million and a Corvette in the lawsuit she launched, was fully aware of the nature of the scene before agreeing to the job.
Director Jameel Mendoza supposedly insisted,
She's a liar. [She] will do anything for money. We normally would have paid a third-rate talent like her $25 for a single glory hole scene, but we agreed to $100 because it was with her brother. Let's not forget this is the same girl who allowed herself to be penetrated by the head of a dead Anaconda in Snake Hole. She has no moral standards.
As for Tang, he will not be jumping onboard the lawsuit train.
The actor reportedly said,
I feel bad Maddy's so upset about this, but it doesn't bother me. Just another blowjob. Hell, I'd probably f*ck her too if I could wear a blindfold. At the end of the day, pussy is pussy.
Well put, Chuck Tang. Family time is family time no matter how you slice it.
Citations: Woman Sues Porn Company After Accidentally Giving Her Brother the Glory Hole (DudeComedy)