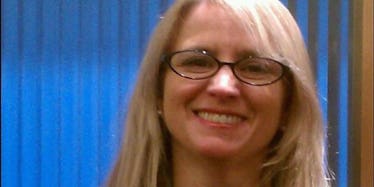 Woman Is Suing Her 12-Year-Old Nephew For Breaking Her Wrist In A Hug
Facebook
Love, meet the law.
A woman in New York is reportedly suing her now 12-year-old nephew after she claims he broke her wrist while hugging her too hard four years ago.
Jennifer "NO HUGZ, NO LOVEZ" Connell claims the incident happened at a birthday party in 2011, when her then-8-year-old nephew, Sean Tarala, saw his beloved aunt walk up, got off his brand new bike and "Of Mice and Men"-d her with the fury of a thousand Lennies.
Connell relived the tragic event during testimony to the Connecticut Superior Court in Bridgeport on Friday. According to the Connecticut Post, Connell said,
All of a sudden he was there in the air, I had to catch him and we tumbled onto the ground. I remember him shouting, 'Auntie Jen I love you,' and there he was flying at me.
There is no God.
Jennifer's life post-Wristgate has been nothing short of a nightmare.
She told the court,
I live in Manhattan in a third-floor walkup so it has been very difficult, and we all know how crowded it is in Manhattan.
Later elaborating on the HELL that has become her day-to-day life, she said,
I was at a party recently and it was difficult to hold my hors d'oeuvres plate.
SEAN! LOOK WHAT YOU DID, YOU MONSTER!
Jennifer said the only way to make this right is to give her $127,000. IT'S THE ONLY WAY, SEAN! SHE ISN'T F*CKING AROUND!
SHE WANTS RESTITUTION FOR THE CRIMINAL ACTS COMMITTED AGAINST HER, AND SHE'S HOPING THE LAW WILL GIVE HER THAT JUSTICE.
The suit she raised against Sean reads:
The injuries, losses and harms to the plaintiff were caused by the negligence and carelessness of the minor defendant in that a reasonable 8-year-old under those circumstances would know or should have known that a forceful greeting such as the one delivered by the defendant to the plaintiff could cause the harms and losses suffered by the plaintiff.
YOU HEARD IT HERE, YOU BEAST! JEN MEANS BUSINESS! SHE DOESN'T CARE IF YOUR MOM DIED LAST YEAR, SHE'S GONNA TAKE YOU FOR ALL YOUR…
Wait, the boy's mother died last year and she's bringing the suit up now? Really?
Jeez, Jen.
Wtf, Jen?
The boy, who Connell herself admits has been "very loving, sensitive" to her in the past, reportedly looked rightfully confused as he sat in court with his father.
Members of the family have refused to comment on the lawsuit.
Jen. C'mon.
Citations: Aunt sues nephew 12 for breaking her wrist during greeting (New York Daily News)