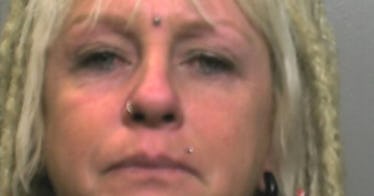 Cheating Woman Steals $38K From Guy She Had Affair With By Faking Cancer
SWNS.com
A woman has been jailed for 18 months after conning her secret lover into giving her $38,000 for a supposed life-saving surgery to remove a tumor from her spine.
Pamela Jackson, 49, lied to her partner about having spinal cancer and pocketed the large sum of money from him over a period of four years.
While Jackson, who is from Werrington, England, was defrauding this particular victim, she also happened to be engaged to another long-term partner, who knew nothing of the other man in her life or her many lies, according to The Sun.
Prosecutor Ian Windridge told the court,
The relationship continued on the basis that he provided her with sums of money or items in lieu of money. She raised concerns with him that she had befallen ill-turns and she needed money. On each occasion he provided the money. He sold a vintage motorcycle to be able to find the money. On another occasion he borrowed money from a third party.
Jackson's lies were exposed in March 2015 when she arranged for her secret boyfriend to look after her dogs while she was in New York, reported Metro.co.uk.
Windridge continued,
The victim called her because her dogs, who he was looking after, were causing trouble. She arranged for her [fiancé] to collect the dogs and matters started to unravel.
Eugene Hickey, who defended Jackson in court, said she feels remorse over her actions.
He explained,
She has been ostracized by her friends and family members. She has broken up with her fiancé. The victim was willing to hand over money seeking to win her affection and she exploited him. She is going to pay back every single penny he believes he is entitled to.
Unfortunately, Jackson's fake cancer diagnosis wasn't her only lie. Over the approximate four-year affair with her boyfriend, she also claimed she was robbed, her brother had died owing her £5,000 and a loan shark was after her.
She also claimed her niece had her arm amputated and needed brain surgery following a serious car accident.
Recorder Sally Hancox said to Jackson in court,
You are responsible for committing and carrying out a terrible fraud over a four-year-period. It was a carefully thought-out deception, lie upon lie, detail upon detail, to ensure his giving of substantial amounts of money would not dry up. You told him you had been diagnosed with cancer of the spine. Imagine how heart-breaking that would have been for him to hear. It was all a lie to get the money for yourself.
The court heard Jackson, who has no previous convictions, is going to repay all of the money she conned out of her victim.
Citations: CONWOMAN CAGED Female fraudster duped lover out of £38k by pretending to have CANCER and that her brother had died (The Sun), Woman faked having cancer to con secret lover out of £38,000 (Metro.co.uk)