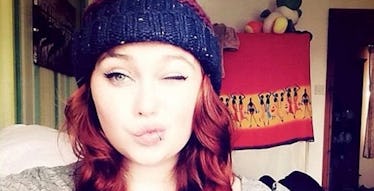 Woman Seduces 13-Year-Old Girl By Stripping In Front Of Her For 'Lurid Fantasy'
Instagram
A 20-year-old woman admitted to sexually assaulting a 13-year-old girl by standing naked in front of her.
Sian Donnachie, 20, lured the teen into sexual activity and confessed at Gloucester Crown Court to possessing indecent images of children.
Between June 2013 and July 2015, Donnachie was found with six Category B indecent images of children and 19 Category C images, MailOnline reports.
Donnachie, who is from Cirencester in Gloucestershire, pleaded guilty to inciting the young girl to engage in sexual activity after presenting herself naked in front of her between November 2014 and November 2015.
In court, Judge Jamie Tabor QC told Donnachie,
This is a troubling case. The difficulty in this case is to separate lure and fantasy from reality. It is a case of sufficient gravity and sensitivity.
This isn't the first time the 13-year-old has been victimized.
Mark Hill, 27, also from Cirencester, has pleaded guilty to luring the same teen into sex and actually engaging in sexual activity with her between November 2013 and November 2014.
He also pleaded guilty to two charges of making indecent photos of children and another two charges of distributing those images to Donnachie between June 2013 and July 2015.
Additionally, Hill admitted to inciting a different girl, also under the age of 16, to send him indecent pictures. Altogether, the 27-year-old has previously admitted to nine different sex-related charges.
Donnachie has been granted unconditional bail and is scheduled to be sentenced at a later date.
According to Thorn, an organization established to fight child trafficking and the sexual exploitation of children, more than seven million reports related to child sexual exploitation have been made to The National Center for Missing and Exploited Children (NCMEC) CyberTipline since its inception in 1984.
In 2013, NCMEC reviewed 22 million images and videos of suspected child sexual abuse imagery in its victim identification program, which is more than a 5,000 percent increase from 2007.
Organizations such as Enough is Enough are fighting to make the internet a safer space for children and their families. You can help them and their mission by donating to the cause or getting involved in one of their many initiatives.
Citations: Woman, 20, admits luring 13-year-old girl into sexual activity by standing naked in front of her (MailOnline)