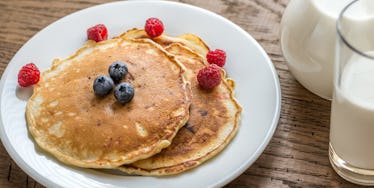 Woman Freaks The F*ck Out Over The Unlimited Pancakes Rule At Denny's
Getty Images
A Chicago woman was arrested after becoming violent over an all-you-can-eat dispute.
According to the Chicago Tribune, 27-year-old Natasha West ordered all-you-can-eat pancakes at an Oak Lawn, Illinois Denny's for $4 on November 6.
She then proceeded to distribute pancakes to a few friends, believing sharing wasn't an issue since she technically ordered an unlimited amount of food.
A waitress, however, informed West the special can only be utilized by one person and is not meant to feed an entire table.
Police said West became infuriated, cursed at the waitress and even tried to punch her.
West repeatedly kicked a door as she and her friends left the restaurant without paying. A restaurant manager gave the police a description of the group's car, which was quickly pulled over.
After being brought back to the Denny's, West was charged with assault and damage to property while one of her friends was charged with providing false identification to police.
One of the friends paid the bill.
The waitress was apparently not hurt.
Citations: Denny's customer irate over unlimited-pancakes rule swung at server, cops say (Chicago Tribune)