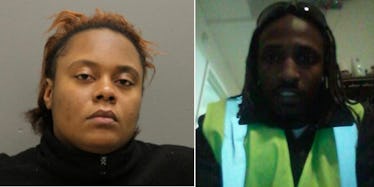 Woman Kills Boyfriend By Forcing Him To Down Bleach During Heated Argument
Chicago Police/Facebook
In a heated argument gone too far, a Chicago woman forced her boyfriend to swallow bleach, which ultimately killed him.
Yasmine Elder, 24, has been charged with the murder of Darrius Ellis, 26. The argument that led to the man's death began around 1:45 am on March 6 while he and Elder were sitting in a van in West Englewood.
According to police, Elder allegedly overpowered Ellis and poured chlorine bleach down his throat.
The victim was rushed to Stroger Hospital after the officers who reported to the scene found him lying on the ground. Ellis was pronounced dead at 3:26 am, according to the Cook County medical examiner's office.
Elder was arrested later that day around 5:30 pm.
An autopsy later confirmed Ellis died of "complications from forcible administration of a caustic substance."
Ellis reportedly worked as a welder and had graduated from Kennedy-King College. He also left behind a 5-year-old son.
Clarence Hebron, his maternal grandfather, said of Ellis,
He was a good kid. Everybody loved him.
Hebron said he saw his grandson almost every day, as they lived near one another in Englewood. He would often look after Ellis' son on weekends or whenever needed.
According to DailyMail.com, the victim's aunt, Mengyona Flowers, wrote a touching post on Facebook:
My nephew, this was a good young man trying his best. To help everybody taking my grand babies to school and picking them up every day. We loved him but God loved him best.
According to How Stuff Works, after a person drinks bleach, the symptoms can range from pain and irritation in the mouth and throat, pain and possible burns in the esophagus, vomiting, convulsing, shock and damage to the gastrointestinal tract and internal organs.
Though experts say a mouthful of swallowed bleach is not likely to kill a person, drinking a large amount can cause death.
Elder is scheduled to appear for a bond hearing on March 9.
Citations: Girlfriend 'kills her boyfriend by overpowering him and pouring bleach down his throat during an argument' (DailyMail.com), Murder charge filed against woman accused of forcing boyfriend to drink bleach (Chicago Tribune), What if you drink bleach? (How Stuff Works)