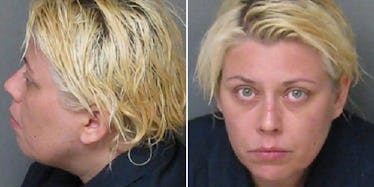 Woman Who Killed Husband For Having A Threesome With A Couple Gets 29 Years
Gaston County Police
Back in 2016, 43-year-old woman from Charlotte, North Carolina named Crystal Gambino discovered her 42-year-old husband Giovanni having a threesome with a couple: Geoffrey Glen Gilliland and Stephanie Lynn Sanche, who were both 33 years old.
Instead of talking it out with her husband, Crystal decided to take her .44 Magnum and some shells of ammunition and allegedly killed all three of them.
While she moved Stephanie's body outside, she stopped dragging her husband's body after she realized she needed to go to her 8-year-old's school in order to pick her up.
Crystal pleaded guilty to involuntary manslaughter of her husband and the second-degree murder of Geoffrey and Stephanie under a plea deal, thus avoiding the three counts of first-degree murder she had originally been charged with.
Giovanni Gambino had taken to Craigslist in the hopes of soliciting sex from a couple, and he even used cocaine as a way to lure potential pairs into a threesome with him.
In case you were still on the fence about its safety, Craigslist is truly the creepiest place on planet Earth. Tinder is already a weird place for finding potential hookups, but Craigslist?
No. Thank. You.
Stephanie's father found the plea deal, which will put Crystal behind bars for 29 years, to be unsatisfactory. He said,
Twenty-nine years for taking that away is not enough, in my opinion.
Meanwhile, Geoffrey's sister Jennifer Burke showed no mercy for Crystal's sentence, adding,
I can only hope that you suffer every day.
As for Crystal, she claims she is truly remorseful this horrible series of events ever occurred,
I hate this happened. It's a horrible tragedy, not only to these people, but to my family. I can say I'm sorry, but I don't think they'll accept it anyway.
When police were called to perform a welfare check at the Gambino residence on February 29, 2016, the three victims were found completely nude, each with a gunshot wound.
Citations: Woman gets 29 years for killing husband, couple caught in threesome (New York Post)