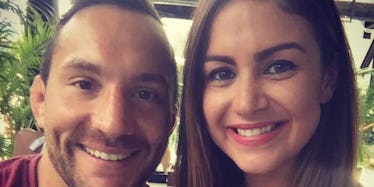 Woman Hangs Herself In Hotel Room After Fighting With BF Over 'Silly Things'
Love is a powerful emotion. It can drive people to do unthinkable things.
Abigail Brown – a 26-year-old British backpacker – recently made the rash decision to take her life after she got into an argument with her boyfriend.
The woman allegedly hung herself in a hotel room in Phuket, Thailand, after she had a dispute over "silly things" with her boyfriend, James Brum.
Brum discovered the gruesome scene inside the room when he returned to the resort later that evening.
According to police reports, the couple got into an argument at White Room nightclub in Patong Beach after Brown noticed her boyfriend talking to other women.
The altercation concluded with Brown storming off to their apartment, which was located at a popular resort on the Phuket street, Soi Ta-iad.
Brum returned to the apartment several hours later and discovered his girlfriend's lifeless body on the bed. He then called the police.
Thai authorities report there are no suspicious circumstances surrounding the woman's tragic death.
Apparently, Brown had been sharing the apartment with Brum, who is a professional mixed martial arts fighter. They were training at the Tiger Muay Thai camp located nearby.
Earlier in the evening, Brown and Brum had watched a film together before heading to Patong beach.
Brown returned to the apartment by herself at 3:20 am. Her lifeless body was found when her boyfriend returned home three hours later.
Paramedics rushed to the apartment and attempted to revive the woman using CPR. However, Brown was declared dead at the scene.
Authorities report Brown had injuries consistent with suicide, and displayed no apparent signs of assault prior to her death.
According to Lieutenant Somkiet Sarasit,
The only injuries found were around her neck and these coincide with her being hanged by the bed sheet. The young woman hanged herself. There was no fighting and no cuts to her body. The man said that they had been out together. They had an argument and she returned early. They had been fighting about silly things.
Brown used to frequently post photos of herself and Brum. She often referred to him as "the hubby" on Instagram, and used to share status updates about their latest adventures on Facebook.
A source allegedly told The Sun,
The British guy was hysterical. He was screaming at the rescue crews to try and help her but there was nothing they could do. She was already dead. He went with her in the ambulance and was crying the whole time.
Brown's family and friends were just as devastated by the shocking news of the young woman's death.
Brown's half-brother, Will Rowland, posted a touching message about his sister's tragic death on Facebook last night.
He wrote,
As some of you may already of heard, on Saturday, my older sister Abi sadly passed away. I honestly couldn't of asked for a better older sister, she always excelled in everything and always kept me and everyone around her so, so proud. Words can't describe how much she will be missed and how much she meant to us all, I have lost a big part of me and my life. Abi was honestly one of a kind still can't believe it.
Others also turned to social media to pay tribute to Brown.
One of her friends, Laura Cave, said a final goodbye to Brown on Facebook, writing,
My heart is broken, words can't even describe how much I will miss you. Your presence would light up every room. I will forever treasure all of the precious memories we shared together, your beautiful soul, infectious smile, cheeky personality and our weird personal jokes. You touched my life in only a short amount of time, you are one of a kind and I am forever grateful to have crossed paths with you. Rest in peace my beautiful girl, I will miss you forever.
Brown's body was taken to Bangkok, where an autopsy will be carried out before she is repatriated.
Citations: Pictured: British backpacker found hanged in her Thai hotel room after late-night argument with her boyfriend about him 'chatting up other girls' (Daily Mail)