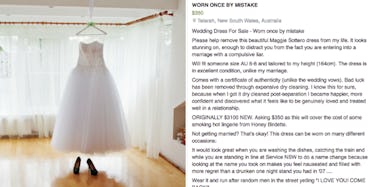 Woman Gets Revenge On 'Compulsive Liar' Husband In FB Ad Selling Wedding Dress
Facebook/Svetlana Shchemeleva
Well, this is a pretty damn fantastic way to get revenge on your soon-to-be ex-husband.
An Australian woman named Lauryn Lawrence absolutely savaged her ex in a brutal Facebook post where she put her wedding dress for sale.
And if you're one of those people who can't get enough drama, you're going to want to grab some popcorn for this one.
I have no idea exactly what Lauryn's husband did to be labelled a "compulsive liar," and for her to describe the dress as "worn once by mistake," but it's safe to say it must have been bad.
Her Facebook post read,
Please help remove this beautiful Maggie Sottero dress from my life. It looks stunning on, enough to distract you from the fact you are entering into a marriage with a compulsive liar. The dress is in excellent condition, unlike my marriage.
Just imagine what the guy is thinking reading this.
The mom-of-one from New South Wales was only getting started. She states she wants to pay for some "smoking-hot lingerie" with the money she gets from the dress.
She added,
Comes with a certificate of authenticity (unlike the wedding vows). Bad luck has been removed through expensive dry cleaning. I know this for sure, because when I got it dry cleaned post-separation I became happier, more confident and discovered what it feels like to be genuinely loved and treated well in a relationship.
She bought the dress for $3,100 but advertised it for just $350. She has also set up a GoFundMe page to cover the cost of her divorce.
However, after scorned women across the world began flooding her with support and donations, she revealed a change of plans.
Instead, she has decided to auction off the dress and donate all the money to a local refuge for women, Lillian's Refuge.
And by the sound of things, she's going to be just fine without her ex.
Citations: Newcastle Australia Wedding Buy+Swap+Sell (Facebook)