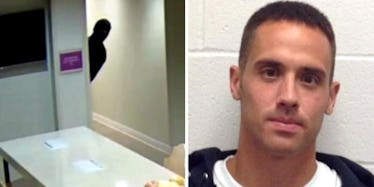 Woman Fights Masked Man Who Gropes Himself And Throws Her On Table In Scary Vid
ABC 7/Douglas County Sheriff's Office
Shocking surveillance footage shows a brave hotel worker fighting off a masked sex offender who cornered and attacked her.
After the woman managed to defend herself against the attacker and rip off his ski mask, he fled, only to return with his face exposed for a second attempt to sexually assault her.
A second struggle took place in the Home 2 Hotel in Omaha, Nebraska, before the man left for good, ABC 7 reported.
Days later, police arrested Zachary Person, a serial sex offender who may be responsible for other assaults across a number of states.
Deputies from the Douglas County Sheriff's Office said the victim was working the night shift when Person entered the building.
At one point, Person can be seen peering around a corner while groping himself, according to ABC 7.
When he spotted the victim, he threw her on a table before dragging her down an empty corridor to try to assault her.
But when the woman broke free and dislodged his mask, he fled, which helped authorities to identify the attacker.
Police say he made a big mistake by returning shortly after without his mask, as cameras picked up his face and he was recognized by the Sioux City Police Department in Iowa.
Douglas County Sheriff Tim Dunning said,
Sioux City had a similar incident occur in their jurisdiction on March 1, just hours after the west Omaha attack, at the campus of Morningside College. Several incidents involved Person attacking or knocking female victims to the ground for purposes of some manner of molestation. He's definitely going to assault somebody else. We can't wait, so where as we could have made a better case, we still have a good case, but we could've made a better case. The risk outweighed that reward.
Other cases involving Person include sexual assaults in Fremont, Nebraska, Dodge County, Wisconsin and Vermillion, South Dakota.
Person, 29, was being held in the Douglas County Jail on Friday, March 3.
He is scheduled to be sentenced for the offenses in Wisconsin and South Dakota.
Citations: VIDEO: MASKED MAN LURKING IN OMAHA HOTEL ATTACKS FEMALE WORKER (ABC 7)