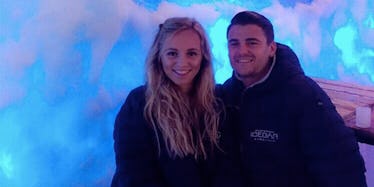 Woman Falls In Love With BF All Over Again After Tragically Losing Her Memory
Facebook
Imagine how heartbreaking it would be if your SO lost his or her memory, and didn't have a clue who you were or what you had done together.
That was the reality for a man from Kent, England, who had to win his girlfriend's heart all over again when she lost her memory.
Jessica Sharman, 20, was with her 25-year-old boyfriend Rich Bishop on the train when she suffered a series of seizures.
The attack robbed her of her memory, meaning she didn't recognize herself or know who her boyfriend and parents were, The Sun reported.
It proved to be a major challenge for her relationship with Rich, but he's managed to get her to fall in love with him a second time.
But, crushingly, doctors say there is a 50 percent chance she could lose her memory again, meaning Rich will have to start from scratch.
Jessica said,
Rich was able to make me fall in love with him twice — so I know he could do it again.
The couple had been together for seven months when Jessica, who has epilepsy, suffered the attack.
It turned everyone into a stranger, including her parents Lisa, 49, and Gary, 56.
Jessica, who lives with her parents, agreed to go back with them only because her reflection matched the girl in photos with them. She said,
My mom started frantically digging out pictures of us on her phone to try to jog my memory. Mom put a hand on my knee but I pushed it off, it felt weird to be touched by a stranger.
After her parents gave her a tour of the house, she was taken to the National Hospital for Neurology and Neurosurgery in London, where she was diagnosed with amnesia brought on by epilepsy.
Doctors told her that her memory could return in six months — but also that it may never come back.
Jessica struggled to accept Rich, explaining she "hated" it when they were left alone together, and even tried to break up with him.
But seeing how "passionate and caring" he was convinced her how much they cared for each other, and they haven't looked back since.
In a bid to win back her heart, Rich has taken her for walks in the park, to their favorite restaurants and has told her about their history.
And her parents also helped, by teaching her how to cook again, what TV she enjoyed and how she liked to dress.
She has since gotten a new job at a call center and is adapting to her new life.
Citations: Woman, 20, had to fall for her boyfriend TWICE after losing her memory following a seizure (The Sun)