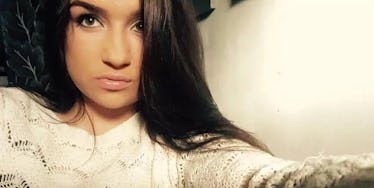 Woman Edits Video To Make It Look Like A Police Officer Threatened To Rape Her
Georgia Harris
A nightclub waitress from Chelmsford, Essex, has been incarcerated for altering a video to make it appear as though a police officer threatened to rape her.
20-year-old Georgia Harris (who was 19 when the incident occurred) attempted to use the edited video as blackmail and push the 22-year-old officer into paying her £250.
In the full video, Harris initiated a conversation with the officer in his car about a "hypothetical" sex attack. Later, she edited the footage to make it sound like the officer responds with "I'd be raping you," to which she replies, "I don't want you to rape me."
Harris' edited video, which she sent to the officer directly, is roughly between six and eight seconds long. She threatened to report the officer if he did not pay her.
Initially, she asked for £200, which she upped by £50 later, after implying she was only 15 years old.
The officer, who was not named in court, did know Harris in real life and had "lent her money on previous occasions and took her on a shopping trip to buy clothes."
Upon seeing the video, he was initially "shocked and panicked," before deciding to tell Kent Police about the incident.
The officer revealed, "She has always been talking about money and asking for money. I am extremely disturbed by this and feel it has affected me personally with trust issues and has made me realize how vulnerable I can be."
This story is particularly unnerving, as it discredits true sexual assault survivors, who face an uphill struggle with law officials taking their accounts seriously.
In fact, only 2 percent of reported rape allegations turn out to be false, despite the staggering number of sexual assault cases that never see legal justice.
Judge Jeremy Carey has sentenced Harris to eight months in a young offenders' institution as a result of the "premeditated, determined and unpleasant nature" of her behavior.
She has since written a letter to the police and to the victim, "I was not in my right mind. After all, who blackmails a police officer?"
Harris is no longer drinking and seeking clinical help.
Citations: Waitress jailed for editing video to make it appear police officer threatened to rape her Read more: http://metro.co.uk/2017/01/05/waitress-jailed-for-editing-video-to-make-it-appear-police-officer-threatened-to-rape-her-6362548/#ixzz4Uu2Kg85R (Metro.co.uk)