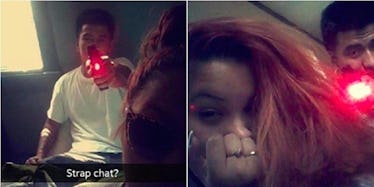 Woman Found Dead Hours After Snapchatting Boyfriend Aiming A Gun At Her
Arkansas mother of two Stephanie Hernandez spent Sunday Snapchatting photos of her boyfriend, Rafael Gonzalez, and his gun.
Sadly, it was the very weapon featured in her photos that allegedly caused the 21-year-old's death later that evening, New York Daily News reports.
Sunday night, police found Hernandez dead from a gunshot wound and her home pillaged.
According to police, Gonzalez was arrested Monday and charged with first-degree murder.
The photos from Sunday showed the 20-year-old pointing his weapon at the back of Hernandez's head.
One picture included a look at the ammo.
In an interview with ABC 7, Jaquinlan Davis, a friend of the couple, described Gonzalez as "a bad influence."
Hernandez's two daughters, who are 3 years old and 8 months old, now face the reality of lives without their mother.
Camryn Startz, the victim's sister, said,
My nieces have been crying all night… I haven't told my 3-year-old niece anything yet. She knows something is wrong because she wants her mom.
Other relatives mentioned Hernandez's plan to start a new job Monday and said Hernandez only recently moved into the apartment where her body was discovered.
Citations: Young Arkansas mother took selfie of boyfriend pointing gun at her, hours before he allegedly shot her dead (New York Daily News), Police arrest boyfriend in death of 21-year-old NLR mother, city's 13th homicide (ABC 7)