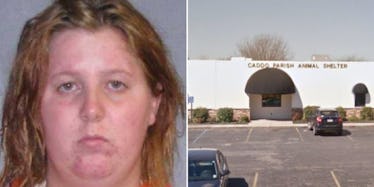 24-Year-Old Woman Caught Having Sex With Dog After Shelter Supervisor Films It
Caddo Parish Sheriff's Office/Google
A female kennel worker has been accused of having sex with a dog while a former employee filmed the act.
Celina Cabrera has been charged with crimes against nature after police investigated a report she had sex with a dog, KSLA reported.
The 24-year-old is currently on administrative leave from Caddo Parish Animal Shelter in Shreveport, Louisiana.
The incident was allegedly filmed by Booker Thomas Jr, a former supervisor at the shelter who no longer works there.
Thomas, 41, of Shreveport, has been charged with being principal to crimes against nature.
According to booking records from Shreveport City Jail, both were put in jail before being released on bond.
A statement from police read,
Officers received a report in regard to the suspect having sex with a dog. The complainant advised the officer the suspect had videos of it.
Reporters from KSLA went to Cabrera's home, where a man asked the crew to leave and declined to comment.
The TV station showed images of a car outside the property which had two bumper stickers on it -- one reading "I (heart) my pet" inside a paw print and one saying "I love my pet" next to a picture of a dog.
Krystle Grindley, a public information officer for Caddo Parish, initially said Cabrera was placed on administrative leave when they were made aware of the arrest.
However, she later clarified Cabrera, who also lives in Shreveport, had already been on leave for nine days since February 15, prior to her arrest on Friday.
She would not reveal why, only describing her absence as being down to "personal privacy issues."
Both Thomas and Cabrera are out on bail.
The breed of dog and the location where the sex act allegedly happened have not been disclosed by police.
Citations: Caddo animal shelter employee accused of having sex with dog (KSLA)