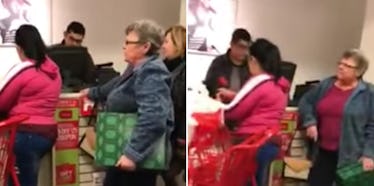 Woman Banned From Mall For Life After Video Of Disturbing Racist Rant Goes Viral
YouTub
A woman in Louisville, Kentucky is facing a lifetime ban after going on a disturbing xenophobic rant against two Latina women at a mall in Jefferson County, the Huffington Post reports.
The two Latina women were apparently standing in front of this woman in line at a JCPenney when they went to go grab a few extra items, which prompted the verbal assault.
The woman shouted terrible, racist obscenities, as the other two women peacefully checked out and did their best to ignore her.
She yelled,
Go back to wherever the fuck you come from... They come here to live, then act like everybody else. You're a nobodies. Just because you come from another country, it don't make you nobody. You're nobody, as far as I'm concerned. You're probably on welfare. The taxpayers probably paid for all that stuff.
The disturbing incident was caught on video by a witness, which went viral after it was shared online.
Jefferson Mall officials have condemned the woman's remarks and are seeking to identify her in order to ban her from the premises for life, according to ABC news affiliate WHAS11. The officials issued a statement, which said,
We are aware of the video posted online today from inside JCPenney. Jefferson Mall strives to create a comfortable and convenient experience for all of our guests and we absolutely do not condone this type of behavior. We will work with JCPenney to identify this woman and once identified, she will permanently be banned from Jefferson Mall, per our behavior code.
JCPenney's corporate office also issued a statement, according to NBC news affiliate WAVE3, and are hoping to identify the two women who were attacked in order to reimburse them for their purchases and issue a formal apology.
The statement said,
We are deeply disturbed by the incident that took place at our Jefferson Mall store, in which one customer made extremely inappropriate remarks to two other customers while standing in the checkout line. We regret that innocent bystanders – both other customers and a JCPenney associate – were subjected to such discriminatory remarks. We absolutely do not tolerate this behavior in our stores, and are working with our associates to ensure any future incidents of this nature will be addressed quickly and appropriately. In the meantime, JCPenney is asking for the community's help in identifying the two women who were targeted for such remarks, as we would like to reimburse them for their entire purchase and offer a sincere apology for their experience.
Louisville Mayor Greg Fischer also took to Twitter to address the incident.
What this woman said and did was abhorrent.
It's very unfortunate bystanders didn't step in at the time, at least according to what's depicted in the video.
But it's good to see so many people taking a stand against this anti-immigrant rhetoric in the aftermath.
As Mayor Fischer stated, it goes against everything this country purportedly stands for. We can be so much better than this.