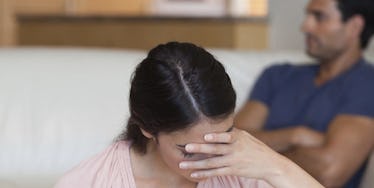 Woman Attacks Ex-Husband After He Requests Sex Position She Doesn't Like
Getty Images
A Florida woman was arrested after attacking her ex-husband due to his preferred sex position.
According to the New York Daily News, 45-year-old Wendy Luper and Michael Vaccaro divorced after a 12-year marriage, but began seeing each other again six months ago.
On Saturday, the two drove to a storage unit in Bradenton, Florida to get some of Vaccaro's possessions.
Luper and Vaccaro were sitting in their parked car at the storage facility when Luper reportedly took off her clothes and proposed sex. Vaccaro agreed and asked Luper to lie down on her back, but she told him she didn't want to have sex in this specific position.
An argument ensued, and Vaccaro left the car.
Luper then reportedly threw an unknown object at Vaccaro, striking him in the head and cutting him open.
When Vaccaro came back to the car to get something out of the backseat, Luper allegedly hit the accelerator and ran over her ex-husband's foot, causing it to swell.
Police arrived and contacted Luper, who was instructed to come back to the storage facility.
Luper was "unable to explain" Vaccaro's injuries, police said, and she claimed it was Vaccaro who initiated their attempt at intercourse, The Smoking Gun reports.
The ex-wife was arrested for domestic battery and released from custody Monday after posting bond for $750.
She will appear in court in December to face her misdemeanor charge.
This is at least the second time Luper allegedly violently assaulted Vaccaro over a disagreement. In August, she was arrested after allegedly punching Vaccaro in the face several times because he would not do laundry.
Luper was arrested for domestic battery, but prosecutors chose not to follow through on the charge.
Citations: Florida woman attacks ex-lover after fight over sex position: affidavit (New York Daily News), Woman Battered Beau Over Sex Position Dispute (The Smoking Gun)