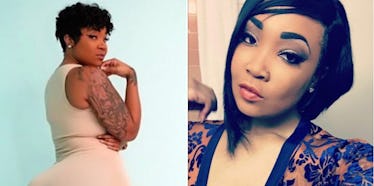 Woman Ends Up With 59-Inch Butt After Risking Life To Get Illegal Injections
Instagram
Butts don't come much bigger than this.
This is Courtney Barnes. She's 32 years old, and her most recognizable feature is her enormous, 59-inch booty.
She's the definition of thick -- but to get such a huge butt, Courtney, from Miami, Florida, almost paid the ultimate price.
She opted to get illegal, highly dangerous silicone injections to make it bigger -- but even so, she didn't expect it to get so big.
Now, the former economics student is a cam girl and model, and has hundreds of thousands of followers awaiting her next booty pic on Instagram.
She told MailOnline,
I want to show men, women and children that it is possible to be beautiful, smart and have a big ass.
Six years ago, Courtney was working as a dancer when she decided she wanted to transform her body, admitting it was a risk she was "willing to take at the time."
It happened at an illegal "pumping party" -- where the injections often contain unknown substances, as well as silicone, and can be administered by people with no medical experience -- and, luckily, there were no complications.
Courtney admitted she was "naïve," but said many other women were getting it done -- with the shots causing one of her friends to need blood transfusions and spend months in a hospital.
They can even be deadly if injected accidentally into a vein.
After the procedure, videos of Courtney and her 59-inch booty began to go viral online.
So, using some of the knowledge gained during her economics studies, she decided to make money off it.
But it hasn't all been easy sailing. She said,
My career is fun but at the same time it is really difficult for people to take you seriously when it comes to certain businesses. People stare at me everywhere I go and not every reaction is positive. I feel like women are intimidated by me and men view me as a piece of meat.
It's difficult for her because, believe it or not, she's "actually quite a shy person."
If any of Courtney's fans want her behind to become even more gigantic, they shouldn't keep their hopes up.
Explaining that her butt is not as perky as it once was, she said she is considering getting it reduced in the future.
Citations: Economics graduate who ended up with a 59-INCH derrière after botched butt injections at an illegal 'pumping party' now makes a living as a webcam model (MailOnline)