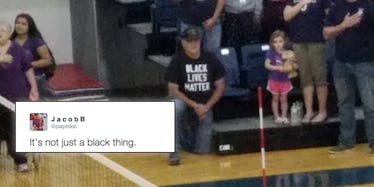 A White Navy Vet Kneeled In A Black Lives Matter Shirt And Everyone Lost It
Twitter.com
In the aftermath of the shootings of Terrence Crutcher and Keith Lamont Scott, two unarmed black men, hundreds of thousands of people have taken to the streets and to social media to protest police brutality against the African-American community.
Right before kickoff on Friday night, football cheerleaders for DeSoto and Cedar Hill high schools took a knee during the playing of the National Anthem. However, it appears it wasn't the first time that week students at DeSoto High School in Texas protested against police brutality.
On Tuesday, the entire girls' volleyball team, which is comprised of predominantly African-American players, took a knee during the playing of the National Anthem, an action that gained plenty of support -- as well as some harsh backlash.
One man who saw what happened at the volleyball game is Albert Woolum, a Navy veteran and a grandfather. Al Woolum is a white man, and he knew what needed to be done after seeing the abuse these girls were taking following their protest.
At the next DeSoto volleyball game, Woolum attended the match wearing a Black Lives Matter shirt and decided to kneel during the playing of the National Anthem.
Speaking on his choice to show support for these young ladies, Woolum reportedly said,
The decision they made to kneel at their last game, they caught a lot of flak for that. I saw that on the news. I looked when their next game was, and I came to support them to let them know somebody in the white community cares.
As you might expect, Twitter is absolutely blowing up, and for good reason. Here we have a white man who presumably has never been a victim of police brutality or racial profiling, but understands what's happening around him and refuses to ignore his responsibility to support his fellow man.
The more Al Woolums we have in this world, the better off we're going to be.
Citations: Shaun King (Twitter), DeSoto & Cedar Hill cheerleaders take a knee before game (FOX 4)