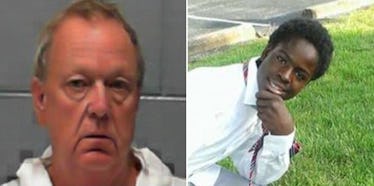 White Man Who Killed Black Teen Tells Cops He Was Just A 'Piece Of Trash'
Kanawah County Court/Facebook
The results of any presidential election will never hide the fact that racism in America is still very much alive and well in 2016.
If anything, the most recent harrowing news story is all the proof you need.
A 62-year-old white man named William Ronald Pulliam is making headlines after allegedly shooting and killing an unarmed black teenager on November 20.
Pulliam and 15-year-old James Means had reportedly bumped into each other outside of a store located in Charleston, West Virginia before Pulliam allegedly used a .380 caliber revolver to shoot Means in the abdomen.
According to Daily Mail, William Ronald Pulliam allegedly shot James Means twice in the stomach after feeling "threatened" by the teen after exchanging words in front of the store at around 8:45 pm.
The 62-year-old man allegedly went into the store after bumping into Means and exchanging words. When he came out of the store, the two exchanged more words before Pulliam apparently felt "threatened."
Pulliam's instinct during the alleged dispute led to Means' death.
While this particular incident is already difficult to comprehend (there aren't many good excuses to kill anyone), perhaps its most disturbing component lies within the statement Pulliam gave police.
The report states that Pulliam told the Charleston police department,
The way I look at it, that's another piece of trash off the street.
The man's unwavering lack of remorse for the situation did not stop there.
According to criminal court documents, Pulliam reportedly went home to eat dinner just before hanging out with a female friend of his at her house.
To top it all off, the 62-year-old West Virginia man wasn't even legally allowed to possess a firearm after a domestic violence conviction back in 2013.
Pulliam has now been charged with first-degree murder and is now being held without bail as a result of the heinous crime against 15-year-old James Means.
The teen's mom Nafia Adkins spoke to WSAZ News, saying,
My son is in a safer place now, and we all love him. We know that justice is going to succeed in this matter. We are not going to put it in our hands. We are going to let the law put it in their hands.
As of now, the FBI is said to be investigating whether or not the killing will be deemed a hate crime.
While justice as indeed been served, it is unclear whether or not Pulliam has learned from any of this.
After all, the only thing he could say in front of the judge was,
I'm going to be in here 'til December? I'm going to lose my job and everything.
Ladies and gentlemen... welcome to your America.
Citations: White man accused of shooting dead a black 15-year-old after bumping into him outside a store told police the teen was just 'another piece of trash off the street' (DailyMail.com)