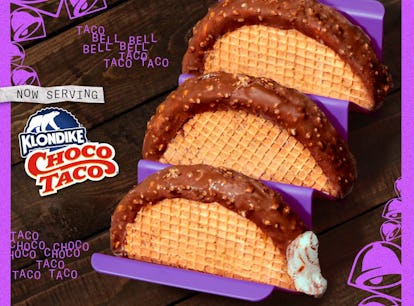 Taco Bell Is Bringing Back The Choco Taco At Long Last
But it's only at select locations... for now.
An iconic mash-up has officially returned, and it'll certainly sweeten up your 2022. Taco Bell and Klondike have partnered again to bring back the Klondike Choco Taco after a seven year hiatus. If you're ready to chow down on the chilly treat, here's where to get Taco Bell's Choco Taco for its 2022 return.
Taco Bell unveiled the epic comeback of the Klondike Choco Taco on Feb. 17 to celebrate Klondike's 100th anniversary in 2022 — and the treat is only available for a limited time for just $2.99. For those who aren't familiar, Klondike Choco Taco hasn't been available at Taco Bell for seven years, so the return is certainly a big deal for fans. In case you need a refresher, the menu item is a mash-up of a taco and ice cream — the frozen treat comes in a sugar-cone taco that's topped with a crunchy chocolate and peanut exterior. The inside features vanilla ice cream with swirls of creamy fudge.
For its 2022 return, Taco Bell is testing the Choco Taco at 20 select Los Angeles and Milwaukee locations. Here's a list of the Taco Bell locations where you can order the Choco Taco:
Southern California Taco Bell Choco Loco Locations:
204 N. Gaffey, San Pedro, California 90731
1031 S. Gaffey Street, San Pedro, California 90731
5125 Pacific Coast Hwy, Torrance, California 90505
22235 S Main Street, Carson, California 90745
921 West Sepulveda Blvd, Torrance, CA 90502
2054 Lomita Blvd., Lomita, California 90717
640 Pacific Coast Hwy, Seal Beach, California 90740
1408 W. Century Blvd, Los Angeles, California 90047
228 E. Seventh Street, Long Beach, California 90813
9919 S. Avalon Blvd., Los Angeles, California 90003
Milwaukee Taco Bell Choco Loco Locations:
2056 Milwaukee Ave., Burlington, Wisconsin 53105
7020 Green Bay Road, Kenosha, Wisconsin 53142
4002 52nd Street, Kenosha, Wisconsin 53144
8040 Sheridan Road, Kenosha, Wisconsin 53143
12120 75th Street, Kenosha, Wisconsin 53142
230 West Layton Ave., Milwaukee, Wisconsin53207
3334 S. 27th Street, Milwaukee, Wisconsin 53215
920 Greenwald Court, Mukwonago, Wisconsin 53149
8261 S. Howell Ave., Oak Creek, Wisconsin 53154
1750 Summit Ave., Oconomowoc, Wisconsin 53066
The Klondike Choco Taco is only available for limited time while supplies last, so you'll want to head to one of the 20 locations ASAP if you'd like to chow down on the frozen treat in 2022.