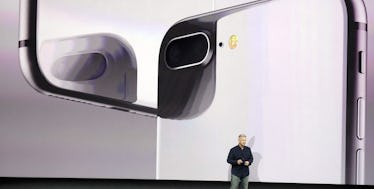 The iPhone X Is Coming, Proving To All Of Us That The Future Is Literally Now
AP/REX/Shutterstock
Apple has officially introduced the iPhone X, or the iPhone 10. It's the most recent member of the iPhone family, with an all-glass front and a 5.8-inch super retina screen. There's no home button, which means the future really is now, and there's a facial recognition software called Face ID so that all you need to open up your iPhone is your FACE. Um, when will the iPhone X be available and how can I get my hands on it yesterday?
The iPhone X was announced on Sept. 12, during Apple's September Event Keynote from the Steve Jobs Theater at Apple Park in Cupertino, California. The price will start at $999 for the 64GB model, and it comes in space gray and silver. You can pre-order it on Oct. 27, and it will start shipping and be available in stores on Nov. 3. Leave it to Apple to generate this amount of hype for something we have to wait that long for.
Other features of the iPhone X include the highest pixel definition ever out of every single iPhone, OLED technology, wireless charging (which will give you two more hours of battery), and Animojis. It also has rear cameras with dual optical image stabilization that will allow you to shoot more vibrant photos with even more detail and that deliver the highest quality video recordings ever on a smartphone. iPhone X's TrueDepth camera, which is what will enable Face ID, will even bring the high-quality Portrait mode to the front camera, including Portrait Lighting that makes Portrait photos so great.
Regarding the iPhone X, Apple's website says:
Our vision has always been to create an iPhone that is entirely screen. One so immersive the device itself disappears into the experience. And so intelligent it can respond to a tap, your voice, and even a glance. With iPhone X, that vision is now a reality. Say hello to the future.
The iPhone X definitely seems awesome. I'm particularly interested in playing around with the Face ID and Animojis, and in getting that ultra impressive Portrait selfie lighting. (Don't @ me. I am a millennial.)
FaceID seems a little bit sus if you consider the fact that lots of humans have similar facial structure, and also what if someone who has the same color eyes as you or something gets their hands on your phone? But Apple says the FaceID has a one in a million chance of failing. For context, the Touch ID fingerprint reader has a one in 50,000 chance.
Hmmm. Guess we'll have to see.
Animojis seem cool, but also low-key creepy. It looks like you can literally become an emoji, and then send that animorph version of yourself to people. Honestly, it took me awhile to come around to Bitmoji, but once I was hooked, I was hooked. I see myself feeling similarly about Animojis. Though I can imagine how much fun it will be to troll friends with this.
I can't wait to become a piece of sh*t (my true essence).
Now, let's talk about this new selfie camera. It's going to be dope. Right now, all of my selfies on my iPhone look like garbage. The camera doesn't know where to focus the lighting on my face, so I get weird shadows under my eyes that just accentuate my dark circles. Also, my nose always ends up looking larger than it is IRL. But this camera is going to make all of us look like we're using that LuMee phone case Kim Kardashian swears by.
DAMN. Impressive.
The fact that the iPhone X is worth, like, over half of my rent is most likely going to stop me from buying it. Then again, I once compulsively purchased a $600 Marc Jacobs purse when I was feeling sad over a breakup, so... TBD on how I'll respond to whatever's going on in my life come Nov. 3.