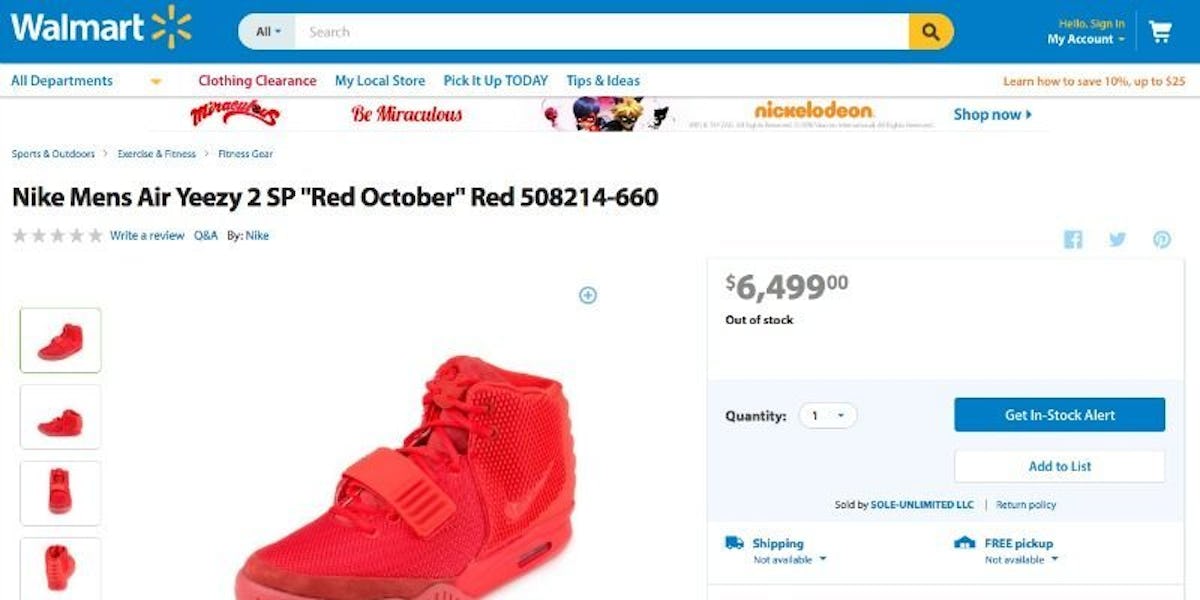 Kanye's Selling $6,000 Yeezy Sneakers At Walmart And Everyone's Mind Is Blown
Walmart
At first glance, it appears that Walmart – yes, as in "the prices keep rolling, rolling, rolling" – is selling Kanye West's sneakers: the Yeezys.
However, as Sole Collector points out, the Yeezys are being sold on Walmart's ecommerce site, which apparently acts as a proxy of sorts. It lists items for sale by retailers other than Walmart.
As you can see in the tweet above, there is one pair of "Red October" Air Yeezy 2s available for $6,499. That's not exactly your standard Walmart discount.
Also, in case you're wondering, the only size available is 8.5.
But this isn't the only pair of high-profile sneakers available on Walmart.com, and that's sent Twitter into an absolute tailspin.
From calling these Kanye kicks fake to clowning about the fact that such a coveted pair of shoes is available at a place like Walmart in the first place, here's how Twitter is currently making fun of Walmart and – by extension – Kanye.
Folks really can't believe Kanye's "Red October" Yeezy 2 is available at Walmart.
And for the low, low price of... $6,499?!
I mean, when I think of Walmart, I don't think of exclusive sneakers.
Walmart is really selling the Yeezy 2's red Octobers on their site wtf — Giovanni Aguilera (@GioJAguilera) September 1, 2016
And I definitely don't think of Kanye West.
why tf is walmart selling yeezy boosts — TあMMY (@TAMMYMAMl) September 1, 2016
At the moment, Twitter is roasting Walmart for slinging one pair of the Kanye "Red October" Yeezy 2s.
Are these even real?
If you wore size 8.5, would you cop these Yeezys from Walmart?
BELIEVE IT, BRO!
"Whose man" is behind this?
We need that heat, fam.
Apparently, Walmart offers more than just this one pair of Yeezys.
Wtf I ain't know Walmart selling yeezy's,Jordan's, and foamposite — DJ Derrell (@derrell102324) September 1, 2016
I don't even know what to say. Sneakerheads far and wide have been trying to get their hands on Kanye West's "Red October" Yeezys FOREVER, and they've just been chilling at Walmart this whole time.
What a time...
Citations: You Can Buy "Red October" Nike Air Yeezy 2s From Walmart (Sole Collector), Yeezy Walmart (Twitter)