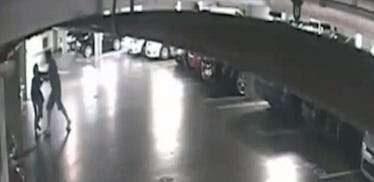 Scary Video Shows Woman Fight Off Sexual Assault In University's Parking Garage
Daily Mail Australia
New video footage shows the moment a man followed a woman through a university parking garage, forced her between two cars and allegedly attempted to sexually assault her in broad daylight.
The alleged attack happened in 2014 at the University of Sydney, though the CCTV footage was only recently released following an FOI by Channel 7 News. The university had originally objected to the release of the video.
According to the police report, the victim "yelled at the top of her lungs for help" when the man tried to attack her. She managed to wriggle her way out of his grip, using her right arm to fight him off. The attacker fled the scene as the woman ran away to look for help.
Police said the CCTV footage "provides [an] excellent shot of the [Person of Interest's] face, suitable for identification." However, the video was never made public until now, about three years after the actual attack.
Channel 7 News eventually obtained the footage after the university failed to lodge a formal appeal following their initial objection.
The news organization's FOI editor told News.com.au,
This man has not been caught. He poses a direct risk to the public. One would think that the university would do everything in their power to help apprehend him.
When police arrived at the scene, they were not able to identify the alleged attacker. To this day, the man has never been caught.
Authorities are hoping someone will come forward with more information about the incident now that the footage has been made public.
Katie Thorburn, co-women's officer at The University of Sydney, said she was "appalled" with the university's actions. She told News.com.au,
It sends the message that Sydney University cares more about their reputation than having a woman receive justice [following] a despicable act.
According to a University of Sydney report about campus sexual harassment and assault, more than 20 percent of surveyed students in 2016 said they experienced a form of unacceptable behavior, unwanted sexual harassment or assault during the time they were enrolled.
Last week, female students at the university conducted a series of events to highlight the problem of sexual assault in the community, including panel discussions on sexual violence, women's self-defense classes, consent-awareness activities and a screening of "The Hunting Ground" documentary.
On March 3, students also launched a sexual assault Survivor Network, which will operate as a peer-led support group for anyone who has experienced sexual or domestic violence.
Anna Hush, who launched the event, said,
The Survivor's Network has been formed in response to the systemic lack of support systems for survivors. It is so crucial to create a space where survivors feel safe to talk, and can connect with one another and share their experiences.
Citations: Horrifying moment sex attacker grabs a young woman and forces her between two parked cars as she walks through a Sydney university carpark (Daily Mail Australia), Footage of brazen sex attack at Sydney university released under FOI (News.com.au), Creating a Safer Community for All: Sexual Harassment and Assault on Campus (The University of Sydney)