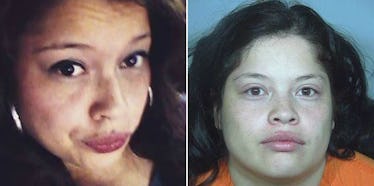 Mom Faces Jail After Threatening To Kill Son Over Phone Charger In Viral Video
Facebook/Weld County District Attorney's Office
A Colorado mom pled guilty to abuse charges after a terrible video of her threatening to kill her two-year-old son went viral.
The 16-minute video shows Katrina Kennedy-Flores, 26, screaming and cursing at her son over a lost phone charger.
She screams at her son,
That's the only [bleep] charge I had! If you make me [bleep] miss my [bleep] phone call, I'll [bleep] kill you.
She can also be heard saying, "You're going to die."
To protect his identity, the son's face has been blurred in the footage.
The mom can also be seen standing next to her son's playpen while he's sitting inside of it.
She picks up his booster seat off a nearby chair and slams it down into the playpen, possibly right on his head.
The screams from the child are heartbreaking.
The sickening video was taken by a woman who reportedly lived with Kennedy-Flores and was given to a friend in late April.
The video was handed to the police, but  it was also posted on Facebook and Youtube. The video quickly went viral.
Authorities didn't actually arrest Kennedy-Flores until nine days after receiving the footage, which many would say is way too long.
Photos of bruises all over the boys' legs were also released by another witness.
Apparently, child services had been contacted by Kennedy-Flores' family in the past with no answer. However, footage like this could not be ignored.
Her son is now in the custody of her half-sister, Nicole.
When Nicole saw the video, she told KDVR,
I confronted her. I was like, 'What is wrong with you, like you really did this over a charger?'
Initially, Kennedy-Flores faced two charges of misdemeanor child abuse and faced up to 24 months in jail. The mom was granted supervised visitation in August.
The woman who shot the video was also charged with misdemeanor child abuse since she didn't do anything in the moment to stop it.
The woman claimed she didn't intervene because she's unable to walk or move.
At the time of her arrest, Kennedy-Flores was barred from having any contact with her son, the witnesses in the case and anyone under the age of 18.
Kennedy-Flores is set to be sentenced on January 3.
Citations: Colorado mother pleads guilty to abuse charges after horrific video of her 'hitting' and threatening to kill her two-year-old son goes viral (MailOnline)