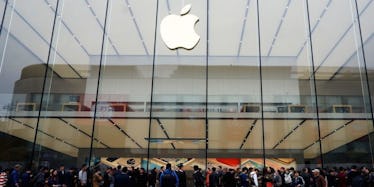 People Really Won't Be Happy With The iPhone 7 Feature Revealed In This Video
REUTERS
One much talked about iPhone 7 rumor looks like it will soon gain steam, thanks to a new video.
In a YouTube post uploaded on Thursday, a Vietnamese website claims to have obtained a headphone jack adapter that would make your standard, regular-shmegular earbuds compatible with the iPhone's "Lightening" charging port.
And why would an adapter be needed? Well, since November, there have been reports hinting at the iPhone 7 totally removing the standard, 3.5 mm port for headphones, apparently in an effort to make the new phone even thinner.
That means iPhone users would have to use headphones that connect wirelessly via Bluetooth or headphones that connect to the Lightening port instead (hence, the adapter).
Here's the video showing how the adapter might work.
Now, there's a couple things to note here.
Though the narrator is, of course, speaking in another language, he appears to tape over the iPhone 6's standard headphone port to emphasize the video is a simulation of what it will be like to use headphones on the iPhone 7.
As for where the adapter came from, 9to5Mac says the narrator claims it was obtained from a factory in Vietnam that supplies Apple.
Lastly, there's no doubt if the iPhone 7 really does remove the standard headphone port, it will be so annoying. The change would mean either buying bluetooth-capable headphones or using an adapter that would make it impossible to charge your phone and listen to music at the same time.
Not only that, but the adapter also looks like it's super easy to lose.
Apple hasn't done something this frustrating since it changed the charging ports between the releases of the iPhone 4 and the iPhone 5, and there were plenty of people unhappy with that move, too.
So, if this change actually does happen, you can expect a lot of users to be pissed.
Citations: Video appears to show official Lightning to 3.5mm adapter for iPhone 7 without headphone jack (9to5Mac)