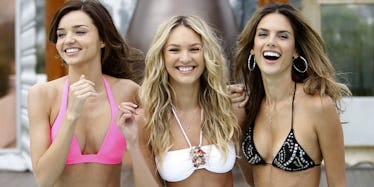 Victoria's Secret Will No Longer Sell Swimwear And We're Freaking Out
REUTERS/Mario Anzuoni
If you've never had the chance to own the perfect blend of cute and sexy that is a Victoria's Secret bikini, well, you better hurry up and get on that ASAP.
The lingerie company reportedly said it was getting out of the swimwear game as part of a plan to eliminate certain merchandise, as well as cut nearly 200 jobs.
BuzzFeed News reports these changes will be made by the end of this year and all "current inventory" will be eliminated.
Reportedly, the company saw a significant decrease in swimwear sales last August. The former head of Victoria's Secret, Sharen Turney, resigned two months ago saying the swimwear was her "biggest disappointment."
In place of swimsuits, stores plan to push the new line of activewear.
To this I say: Whyyyyyyyy? I would much rather shop for cute bikinis to wear to the beach than boring old sweats to wear to the gym. I'm never going to look cute at the gym! That's already a lost cause!
But on the bright side, there's probably going to be a huge blowout sale on Victoria's Secret swimsuits, right? RIGHT?!
A girl can dream, anyhow.
Citations: Victoria's Secret Is Getting Out Of The Swimsuit Business (BuzzFeed News)