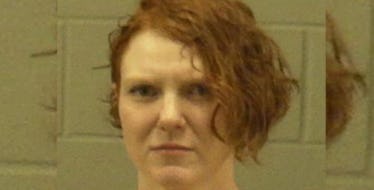 World's Most Reckless Vegan Crashes Into Chicken Truck On Purpose
Madison County Sheriff's Office
In a fit of vegan righteousness, a woman purposely rammed her car into a chicken truck twice on a highway.
Judith Armstrong, 26, spotted the truck as she was driving down Highway 57 in Georgia on February 21.
She reportedly slammed into the side of the truck, causing the rattled driver to slam on his brakes. She then hit the vehicle once more, spun around in front of it and sped away.
Though the driver of the truck pulled over and called 911, Armstrong had already fled the scene by the time police arrived.
Efforts to track her down seemed impossible at first because authorities had only a vague description of her appearance and vehicle.
However, Madison County deputies soon realized her license plate had fallen off her car and was left at the scene.
Officers were then able to successfully track down the vegan woman's address. They were initially forced to communicate with Armstrong through her window, as she refused to let them enter her home without a warrant.
At first, she told officers she left the scene because she had had an "accident" and was fearful of losing her license.
After more questioning, though, Armstrong opened up and admitted to targeting the truck because of her vegan lifestyle.
Major Jeffrey Vaughn, of the Madison County Sheriff's office, said the chickens in the truck had just been picked up from a local farm. Armstrong claimed she was just looking out for their safety.
Vaughn told The New York Post,
She was protecting the life of those little baby chickens… she thought. Unfortunately, they were en route to a processing plant.
Armstrong was later tested for alcohol in jail. She was found to have a BAC level of .089, putting her above the legal limit.
She told officers she had "a couple of shots" after she returned home from the accident, and she denied drinking prior to the crash.
The woman currently faces charges of hit-and-run, aggressive driving, driving under the influence and obstruction.
All in all, no chickens were harmed in the making of this story.
Citations: Drunk Georgia woman rams a chicken truck with her car 'because she's a vegan' (Daily Mail), This vegan took her hatred for poultry to the extreme (The New York Post)