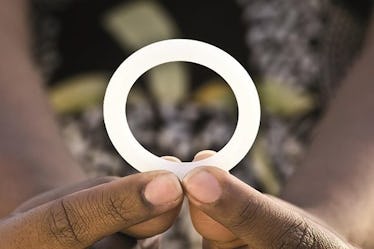 This Vaginal Ring Could Be The Secret To Protecting Women Against HIV
International Partnership for Microbicides
There's some good news out there for sexually-active women.
According to research presented earlier this week at the AIDS 2016 Conference in South Africa, women's risk of contracting HIV can be reduced by 56 percent by using the dapivirine ring.
The vaginal ring, which was designed by The International Partnership for Microbicides, is inserted into the vagina, and it's the first ever tool to be designed for HIV prevention just for women.
Here's how the ring works: It has antiretroviral drugs in it, which are capable of stopping HIV from spreading to the point of infection.
It's similar to the NuvaRing in that it works for a month at a time, slowly releasing dapivirine to keep HIV from taking over healthy cells in the body. The ring is still in its trial phases.
A study called Aspire was carried out on 2,600 Zimbabwean women. The results found that 27 percent fewer women contracted HIV using the ring.
It also found that women above the age of 25 were more likely to consistently wear the ring.
In another study called The Ring Study, which was conducted on 2,000 South African women ranging from the ages of 21 to 45, the results found that 31 percent fewer women got HIV when they used the ring.
Despite their differing results, both studies highlighted that there was little to no protection against HIV for women who were in the age range of 18 to 21.
Researchers are unsure about whether the ring was less effective for young women because young women are less likely than older women to use it consistently, or for physiological reasons.
"For the first time, we have two trials demonstrating that a female-controlled HIV prevention method can safely help reduce new HIV infections," Jared Baten, M.D., chair of Aspire said.
It's certainly a step in the right direction.