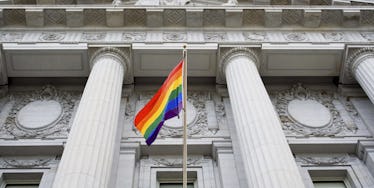 Judge Makes Couple Give Up Foster Baby Just Because They're Lesbians
Getty Images
A Utah judge ordered a young child to be taken away from her same-sex foster parents.
According to Los Angeles Times, 38-year-old April Hoagland and Beckie Peirce, 34, have been raising their 1-year-old foster daughter for three months.
The married couple, who are also raising Peirce's 12-year-old and 14-year-old, began the process of legally adopting the child as per a request from her birth mother.
But on Tuesday, Utah Judge Scott Johansen ruled in a routine hearing the child be taken out of the couple's care and placed into the home of a heterosexual couple.
Of the judge, Hoagland told The Salt Lake Tribune,
He said he has research to back that children do better in heterosexual homes.
Johansen did not provide statistics in court to back up this claim, giving the couple the impression his decision was based on his religion's disapproval of same-sex couples.
The order placed the child with the Utah Child and Family Services division, with seven days to find her a new home.
Spokeswoman for the agency Ashley Sumner, however, agreed the judge took the child away solely because Hoagland and Peirce are lesbians.
She said the agency never received any reports of the couple displaying poor parenting; the agency reportedly screens all potential foster parents.
Sumner told Associated Press,
We just want sharing, loving families for these kids. We don't really care what that looks like.
The UCFS is currently determining whether or not there are grounds to challenge Johansen's order, which Hoagland and Peirce are prepared to fight until they have their child back.
They were allowed to become foster parents when the Supreme Court made same-sex marriage legal nationwide over the summer.
There are approximately a dozen or so same-sex couples in Utah who have foster children.
Brent Platt, director of the UCFS, told The Salt Lake Tribune no other Utah judge claimed foster children are worse off under the care of same-sex parents.
In 1995, Johansen was disciplined by the Utah Judicial Conduct Commission for slapping a 16-year-old boy in the courthouse due to hostile behavior.
He also faced criticism when, in 2014, he offered to allow a 13-year-old girl who cut off a toddler's hair to be spared 150 hours of community service if the girl had her ponytail removed.
Citations: Utah judge takes baby away from lesbian foster parents (Los Angeles Times), Utah judge orders same-sex couple to give up foster child, says baby would be better off with heterosexual parents (The Salt Lake Tribune)