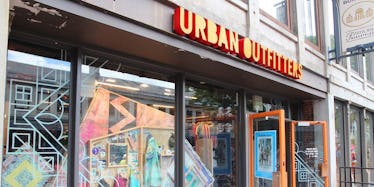 Urban Outfitters Thought It Was OK Not To Let Trans Person Use Dressing Room
Shutterstock
What would you do if a store told you that you weren't allowed to try on clothes in the dressing room?
Nicholas Gorham, a transgender resident of Los Angeles, ended up in this very situation at Urban Outfitters.
The store made Gorham separate from their friend when they both wanted to use the women's dressing room.
Gorham wrote an essay for Mic about it earlier this month, discussing how UO completely "missed the mark" on acceptance of those who identify as transgender.
On this particular trip to UO, Gorham was shopping with their female friend. Apparently, they've been using women's dressing rooms in stores for a long time.
Gorham wrote,
And just as we've done for twenty years, I expect to try on the 'women's' clothing I've selected in a 'women's' dressing room next to my buddy.
Their normal shopping trip came to a screeching halt when an employee threw "company policy" at Gorham.
She could feel the awkwardness and offered: 'Well the thing is there are young girls over there so I can't really ...' 'Uh, OK,' I replied, 'Well, I'm trans.' 'I know,' she said. 'It's just that it's the policy.'
Here's the lame response Gorham got from UO after reaching out:
Why would UO turn away a paying customer like that, when dressing rooms have curtains and single stalls?
You messed up, UO. And for what? A company policy with a huge grey area?
The store provided Teen Vogue and Refinery29 with the same statement about the incident. Again, it's really lame. I'm not sure why I expect more from UO.
It said,
We take all customer feedback seriously and were very surprised and concerned that our official protocols were not followed in one of our stores. Our fitting rooms are gender neutral and open to our customers who are trying on our products. We apologize and deeply regret this shopper did not have a positive experience and are looking into why our policies were not followed. Furthermore, we do not endorse any laws that discriminate against the LGBTQ community, and we have supported charities that are actively fighting the anti-LGBTQ HB-2 law in North Carolina. Again, we will immediately determine how and why our policy was not followed consistently and we regret any uncomfortable experience our valued shopper may have had.
Does anyone else spot the glaring inconsistency?
In the message sent to Gorham, UO said not all stores are bound to any regulations regarding gender, but in the above statement, it says it's "surprised and concerned" an official protocol wasn't followed.
Whatever, UO.
Gorham summed it up perfectly in the Mic essay, writing,
When it comes down to it, besides being unethical and archaic, telling someone that as an employee they are not bound by law to treat human beings fairly is just bad business.
Damn straight.
Citations: Urban Outfitters turn away trans customer from dressing room (Cosmopolitan)