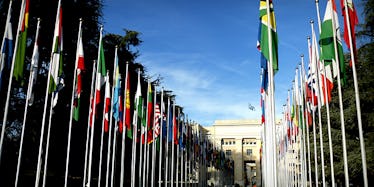 The UN Thinks It's Figured Out How To Repay Black People For Racism
Wikimedia Commons
A panel of human rights experts has recommended African Americans receive reparations for the United States' history of "enslavement and racial discrimination" over the past few centuries.
The panel, which was commissioned by the United Nations and is formally known as the Working Group of Experts on People of African Descent, wrote the following in a 22-page report,
There is a profound need to acknowledge that the transatlantic trade in Africans, enslavement, colonization and colonialism were a crime against humanity and are among the major sources and manifestations of racism, racial discrimination, Afrophobia, xenophobia and related intolerance. Past injustices and crimes against African Americans need to be addressed with reparatory justice.
The group based its findings not only on history, but also a 10-day visit to the US in January. During the trip, the experts examined the current racial climate of the country and assessed measures taken to prevent discrimination against people of African descent.
In examining the subject, the panel concluded civil rights laws in the US have proven "insufficient to overcome" a slew of still prevalent discriminatory practices.
The UN panel report stated,
Mass incarceration, police violence, housing segregation, disparity in the quality of education, labour market segmentation, political disenfranchisement and environmental degradation continue to have detrimental impacts on people of African descent, despite the application of civil rights laws.
Of course, as The Washington Post mentions, the report is not binding and is unlikely to prompt any consideration of implementing reparations by lawmakers.
The report is nonetheless a clear statement from a group of experts sanctioned by the most recognized international body.
Before concluding the report, it recommends,
The Working Group urges the United States to consider seriously applying analogous elements contained in the Caribbean Community's Ten-Point Action Plan on Reparations, which includes a formal apology, health initiatives, educational opportunities, an African knowledge programme [sic], psychological rehabilitation, technology transfer and financial support, and debt cancellation.
The United States has paid out reparations in the past, most recently in 1990, to survivors of Japanese internment during World War II.
Citations: WorldViews U.S. owes black people reparations for a history of 'racial terrorism,' says U.N. panel (The Washington Post)