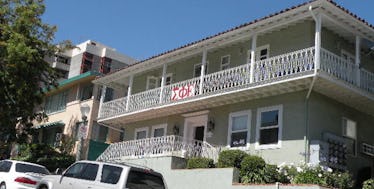 UCLA Frat Under Fire For People Wearing Blackface At Kanye-Themed Party
Google Maps
Yeezus Christ almighty, these kids cannot be serious.
When the men of Sigma Phi Epsilon's University of California, Los Angeles chapter hosted a "Kanye Western"-themed mixer with the women of Alpha Phi, none of them saw any issue with smearing charcoal over their faces to emulate the rapper and stuffing their pants to create Kim Kardashian's butt on their normally slender frames.
The Los Angeles Times reports pictures from the party were posted to social media and immediately caught the attention of university students who recognized the absurdly racist content as a just cause to bring back #BlackBruinsMatter.
The party angered many, including student Hanan Worku. In a Facebook post Wednesday evening, Worku wrote,
Yes that's right, a frat decided it would be okay to have their members repeat a part of history that demoralized, mocked and dehumanized African Americans… They showed up with their chains and braids with stuffed butts for God knows what reason. True Bruin values amiright????!!!!! Not to mention all of this happened last night which happened to be a part of Black Bruin Welcome Week! Coincidence right????? Not ONE UCLA outlet has reported on this… Nor has Chancellor Gene Block given a sh*t to send out one of his fucking emails that usually no one gives a sh*t about. Once again showing that UCLA couldn't care less about Black students.
Never have I been so disappointed to be a Ucla student in the 3 years that I have been here. And never in my life have I... Posted by Hanan Worku onWednesday, October 7, 2015
According Kelsee Thomas, a member of the black student union, SigEp brothers were confronted by fellow students. One frat member apologized, but refused to pen a letter when asked.
Thomas reportedly shared in a now-deleted Facebook post,
One of my Black Bruins asked [the fraternity brother] to write a letter to the black student body, when asked he actually laughed!... Everyone keep in mind that simply because I go to one of the top ranked institutions in the country, doesn't mean I'm any farther away from ignorance and racism as anyone else. [The racists] just hide it behind frat/sorority themes, anonymous postings, and micro-aggressions.
In a statement, UCLA claimed an investigation of the party was underway.
The statement said,
While we do not yet have all the facts, the alleged behavior is inconsistent with good judgment as well as our principles of community.
SigEp's campus activities are suspended for the duration of the investigation, according to the fraternity's national office.
In a statement, Beaux Carriere, a representative of the Greek organization, said,
Building diverse and inclusive communities is core to our identity as an organization, and we have zero tolerance for racist behavior. Sigma Phi Epsilon will continue to work with the university and UCLA community to investigate these claims and hold students accountable for any inappropriate behavior.
Reps from Alpha Phi, a national sorority whose image took a hit due to a controversial recruitment video released this summer, have yet to make a statement.
Citations: UCLA students protest after partygoers wear blackface at 'Kanye'-themed frat party (Los Angeles Times), Sig Ep and Alpha Phi draw criticism after 'Kanye Western' themed raid (Daily Bruin), UCLA African American Welcome Week Soured by Controversial 'Kanye Western' Frat Party (KNBC)