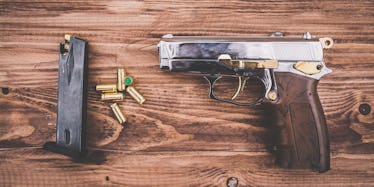 Two Girls Shot Dead At Arizona High School In Likely Murder-Suicide
Shutterstock
At a high school in Glendale, Arizona, two teenage girls were fatally shot Friday morning as a result of what appears to be a murder-suicide.
Investigators came on the scene after initial reports of a shooting at Independence High School, 12 miles outside of Phoenix. It is believed they were shot shortly before 8 am in an isolated part of the campus, ABC News reports.
Both girls, who were both in the 10th grade at Independence High, were pronounced dead when police arrived. The school was put on lockdown as a necessary precaution.
In a news conference, Officer Tracey Breeden, spokesperson for the Glendale Police Department, said,
This was not any sort of active shooter incident and there is no danger to the school or community at this time.
In a statement released earlier in the day, police said,
Information gathered by detectives reveal the two girls were very close friends, appearing to also be in a relationship. Detectives do not have any persons of interest and do not believe there are any outstanding suspects. The investigation has led detectives to believe this incident was a murder suicide. In addition, information obtained indicates gunshots were heard at the school this morning, but it is believed no students witnessed the shooting.
The victims' names have not been released at this time, as the investigation is ongoing.
Citations: Shooting Death of Two Teen Girls at Arizona High School Appears to Be Murder-Suicide, Police Say (ABC News)