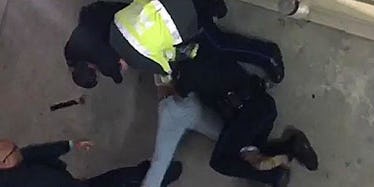 Tuscaloosa Police Being Investigated For Using Excessive Force On Students (Video)
After Tuscaloosa police responded to a noise complaint with brute force, videos of the scuffle caused internal affairs to launch an investigation into the events of early Sunday morning.
According to the Tuscaloosa Police Department, police were called to the residence of several students around 3:20 am due to a complaint loud music was being played in the home despite the late hour, NBC News reports.
In a video from inside the house, an officer can be seen forcing his way inside the home.
Outside, several policemen drag people out of the apartment, and one cop attacks a student with a stun gun and a baton.
The city of Tuscaloosa announced Sunday the Internal Affairs Bureau will be investigating the incident.
The police department also issued a statement regarding the investigation.
The City of Tuscaloosa and the Tuscaloosa Police Department have been made aware of videos regarding an incident that... Posted by Tuscaloosa Police Department on Sunday, November 8, 2015
A first person account of the drama was posted online, though its validity was not yet verified.
Citations: Tuscaloosa Police Investigate Videos of Arrest, Stun Gun Incident (NBC News)