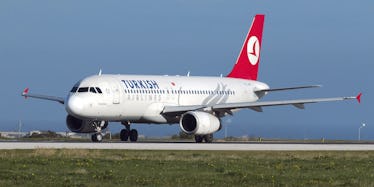 Turkish Airline Flight Makes Emergency Landing After Bomb Threat Called In
Shutterstock
A Turkish Airlines flight from New York to Istanbul was forced to make an emergency landing after officials received a tip regarding a bomb aboard the aircraft.
Turkish Airlines flight TK2 departed from New York's John F. Kennedy International airport on Saturday evening carrying 256 passengers and crew members.
A few hours into the flight, an anonymous individual called to report a bomb aboard the plane.
The pilot diverted off the flight's scheduled path and made an emergency landing at Halifax Stanfield International Airport in Nova Scotia, Canada at approximately 12:32 am Sunday. All aboard were safely evacuated, according to the Royal Canadian Mounted Police.
Turkish Airlines Flight #2 NYC to Ankara diverted to Hfx Stanfield. Landed safely at 12:53am. All safe. 256 on board. RCMP attending. — Halifax Airport (@HfxStanfield) November 22, 2015
After a thorough investigation, authorities determined the bomb threat to be a hoax. The flight is now scheduled to continue as planned to Istanbul.
#RCMP responding to report of bomb threat on board Turkish Airlines flight from #NewYork to #Istanbul — RCMP, Nova Scotia (@RCMPNS) November 22, 2015
This is just the latest in a string of false bomb threats made against prominent airlines in the past several days.
Earlier this week, two Air France planes were grounded in Salt Lake City, Utah and Halifax, Nova Scotia after similar calls were made to the airlines reporting potential bombs.
In both cases, investigators concluded there was no evidence to "lend credibility to the threats."
However, in the wake of last week's terror attacks in Paris — which ISIS claimed would be the first of many — officials are taking the threats very seriously.
#RCMP is looking to establish the origin of the threat and identify the person or persons responsible.@HfxStanfield — RCMP, Nova Scotia (@RCMPNS) November 22, 2015
The FBI is working with local authorities to investigate all three incidents in the hopes of locating the individual or individuals responsible for the calls.
Stay tuned for updates as this story unfolds.
Citations: Turkish Airlines flight makes emergency landing after reported bomb threat (Mashable), Two Air France Flights From US Diverted By Bomb Threats (Reuters)