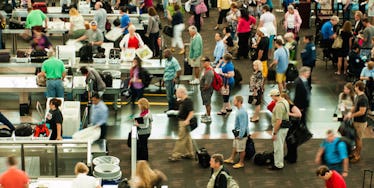 TSA Takes Boy's Buzz Lightyear Toy Away Because It Looks Like A Weapon
Shutterstock
Airport security confiscated a boy's Buzz Lightyear toy over concerns it looked like a dangerous weapon.
Pennsylvania's David Zilka recently took his 5-year-old son, Levi Zilka, to Walt Disney World for the very first time.
The boy's uncle, who also came on the trip, bought the boy a Buzz Lightyear Flip Grip toy during the trip, according to CBS Philly.
David and Levi were going through security at Fort Lauderdale-Hollywood Airport when Transportation Security Administration officials told the father and son the toy could not accompany them on their ride home.
The officials explained the toy bore too much of a resemblance to a gun to be allowed as carry-on luggage.
Levi was in tears as the agents took his new toy away and reportedly threw it in the garbage.
David told WWMT,
We understand that things are scary out there right now but taking a toy from a five year old doesn't enhance national security. It was all I could do not to break down with him in that moment. Once he realized what was happening, that they weren't giving his toy back, he immediately starts bawling, just tears streaming down his face, crying.
Realistic replicas of guns are reportedly allowed on planes as checked luggage, but David said all of his and Levi's luggage was carry-on.
The TSA released a statement to CBS Philly confirming the agent who confiscated the toy made the right decision.
Any item can be denied as carry-on luggage, the agency said, if TSA determines it could be perceived as some sort of weapon.
TSA also outlined alternatives to confiscation in the statement.
The agency added,
Other options given to passengers who arrive at checkpoints with a prohibited item include handing off the item to a non-traveling companion, returning it to their car, and mailing it to their destination if that airport has a mailing center. Those options are available to passengers and, in this case, were explained to the passenger by TSA. The passenger chose instead to voluntarily surrender the item to TSA, where it was placed in a locked bin along with other prohibited items and will ultimately be turned over to the state.
WWMT reports TSA is assessing the confiscation, though it's unclear if David Zilka will be taking any further action against the agency.
Citations: Child's Toy Sent To 'Infinity And Beyond' After Trip To Disney (CBS Philly), TSA throws out child's Buzz Lightyear souvenir (WWMT)