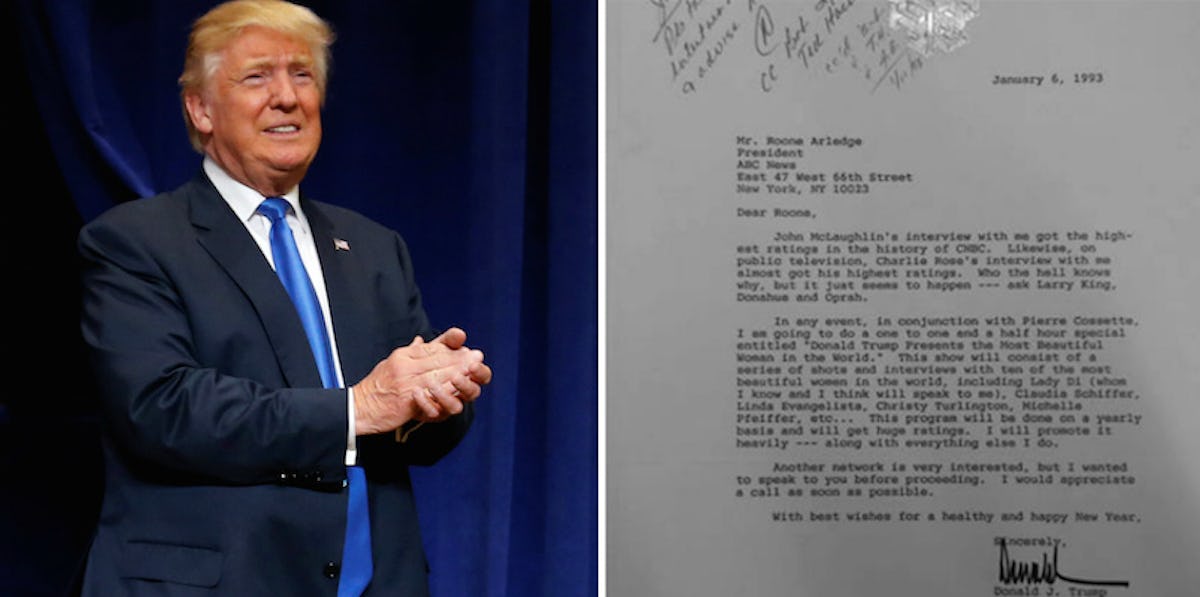 'Trump Presents The Most Beautiful Women In The World' Was Almost A TV Show
REUTERS/Columbia University
You are reading that correct: Donald Trump once pitched a TV show called "Trump Presents the Most Beautiful Women in the World."
Magical. We're not surprised, either.
The presidential hopeful outlined his idea in a letter -- provided courtesy of the Roone Arledge papers at Columbia University's library -- written on a typewriter to the president of ABC News back in 1993.
So what would the show consist of? Well, Donald Trump interviewing lots of beautiful women. No really, that's it.
And why? Because people love Trump, obviously. He ranted to the president about all the high ratings his various TV appearances have raked in for different networks.
Just give it a read -- it's unbelievable.
Dear Roone,
John McLaughlin's interview with me got the highest ratings in the history of CNBC. Likewise, on public television, Charlie Rose's interview with me almost got the highest ratings. Who the hell knows why, but it just seems to happen -- ask Larry King, Donahue and Oprah.
It continues,
In any event, in conjunction with Pierre Cossette, I am going to do a one to one and a half hour special entitled "Donald Trump Presents the Most Beautiful Women in the World." This show will consist of a series of shorts and interviews with ten of the most beautiful women in the world, including Lady Di (who I know and I think will speak to me), Claudia Schiffer, Linda Evangelista, Christy Turlington, Michelle Pfeiffer, etc… This program will be done on a yearly basis and will get huge ratings. I will promote it heavily -- along with everything else I do.
Another network is very interested, but I wanted to speak to you before proceeding. I would appreciate a call as soon as possible.
With best wishes for a healthy and happy New Year,
Sincerely,
Donald J. Trump P.S. I'll bet it gets one of the top five highest ratings of the year!
*Stares into the distance*
We knew he backed himself highly, but this piece of egotistical nonsense is next level, and definitely the real reason typewriters no longer exist -- not computers.
Elite Daily and 50 other media organizations partnered with Rock The Vote to register 100,000 women to vote. You can register right here (and men can use it too) :