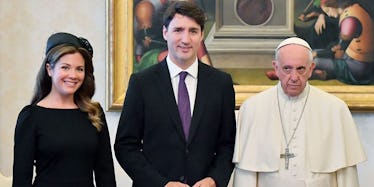 Trudeau Got The "Resting Pope Face" Just Like Trump, And The Pics Are Hilarious
ETTORE FERRARI/AFP/Getty Images
Pope Francis might be a little tired of all of this.
By "this," we mean having to meet with politicians of any political stripe. That seems clear after the pontiff was snapped giving us yet another example of his demonstrably unimpressed facial expression (or what is being discussed online as the "resting Pope face") while meeting with another foreign leader.
This time, he did it while meeting with Canadian Prime Minister Justin Trudeau and first lady Sophie Gregoire-Trudeau at the Vatican over the holiday weekend.
Last week, Francis' gave a similar pose while taking pictures with President Trump.
The photos with Trump were especially hilarious when contrasted with some the pictures the pope has taken next to former President Barack Obama.
But if you think people weren't going to laugh at the same thing happening to Trudeau, you don't know the internet.
Turns out, Resting Pope Face really is a thing!
Of course, Francis and Trudeau reportedly discussed a couple of things that are too serious to smile about, anyway. The Canadian prime minister suggested that the pope apologize for the Catholic church's treatment of indigenous people in Canada during the 19th century.
The pair of leaders also discussed climate change and its importance as an issue that must be tackled for the sake of future generations.
Truduea said,
We talked about how important it is to highlight the scientific basis of protecting our planet and the moral and ethical obligations to lead, to build a better future for all people on this earth.
That is a subject that Trudeau and Pope Francis were bound to agree on, which is one legitimate contrast to the pope's meeting with President Trump.
Clearly, though, merely agreeing with the pontiff on a important subject is not enough to spare a politician from #RestingPopeFace.
And now we know it's a thing.