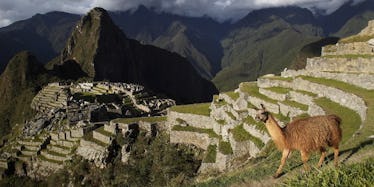 A Tourist Fell To His Death In Machu Picchu While Trying To Take A Picture
REUTERS
A German tourist died in Peru after he fell into a ravine near Machu Picchu, an old Incan city now in ruins. According to NBC News, Oliver Paps, 51, entered a closed-off area to try to take a photo and somehow fell to his death in the process.
According to The Guardian, Paps asked another German tourist to take his picture. Paps then apparently jumped to have the photo taken and accidentally fell.
The director of the Machu Picchu archaeological park told the Associated Press that Paps' body has been recovered.
After a rash of photo-related deaths, I think it's safe to say that, no matter how beautiful your surroundings, don't risk your life for the perfect photo. It's never worth it.
According to History, Machu Picchu was some kind of royal estate or religious site for Inca leaders. The Incan Empire was in power until the late 1500s when it was destroyed by Spain. For some reason, this city died out, possibly due to disease.
So, it just sat basically untouched, but not unknown, by local people until a Yale University professor found it in 1911.
OK, so that's is a crazy history, but come on, Paps. A general PSA for anyone ever considering taking a picture: No photo is worth dying over.
Citations: German Tourist Plunges to Death While Posing for Photo at Machu Picchu (NBC News), Tourist dies after falling off Machu Picchu summit while posing for photo (The Guardian), MACHU PICCHU (History), Machu Picchu (National Geographic)