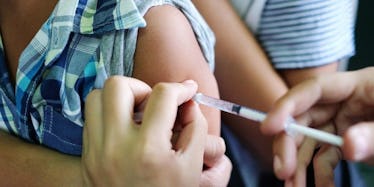 This Toddler Died From Meningitis After Parents Tried To Cure Him With Syrup
Shutterstock
In another unfortunate case of anti-vaccination gone wrong, a 19-month-old boy died from meningitis after his Mormon parents tried to cure him with natural remedies instead of medicine.
According to RawStory, the toddler's parents, David and Collet Stephan, have pleaded not guilty to charges that they failed to help their son when he was clearly suffering from a serious illness.
Alberta, Canada, prosecutors said it wasn't until the boy stopped breathing that the parents finally called an ambulance.
Meningitis, an infection that causes inflammation of the brain and spinal cord membranes, can be life-threatening without treatment of antibiotics.
Instead of taking their son to the doctor when he showed symptoms, the Stephans used an eye dropper to feed him home remedies including frozen berries and maple syrup.
After being airlifted to the nearest hospital, doctors feared it was already too late, and after five days on life support, the boy was taken off and died shortly after.
The parents, who operate Truehope Nutritional Support Inc. out of their home, have had previous trouble with the law, after claiming one of their protein powders could manage mental illnesses like bipolar disorder.
David Stephan claims there is no evidence to support his son's death could have been prevented by the vaccine for Haemophilus influenzae type b (Hib). He and his wife face a five-year prison sentence and separation from their other children if convicted.
Citations: Toddler died from meningitis after anti-vaxx parents treated him with maple syrup instead of medicine (RawStory)