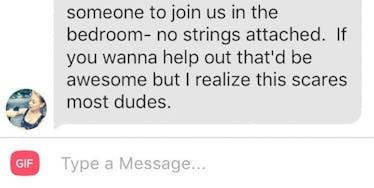 Guy Gets Dream Threesome Offer From Tinder Girl, But There's An Awkward Twist
Reddit
Pro tip: If you find yourself single on Valentine's Day, Tinder is the place to be.
With a lot of swiping and even more luck, you might just bag your dream guy or girl... Or you could receive an absolutely insane message that could be the sexual opportunity of a lifetime.
That's what happened to this guy, who was innocently chatting with a woman on Tinder when the subject of children came up.
He talked about his son and asked if she had any kids — but it's safe to say her reply caught him a little off guard.
She wrote,
No not yet. I have a girlfriend and we want to get pregnant.
Good for them! I'm sure they'll make great moms.
But girl: What on Earth are you doing on Tinder?! If you're happily in a relationship (with a woman, too) don't be leading guys on like that.
If I was the guy, I'd be pretty bummed out by this revelation, but he seems like a good dude, and instead of cutting her off, asks for more of an explanation.
That's when the convo does a complete 180.
She replied,
I'm in a lesbian relationship and we are looking for a donor… we're trying not to use doctors but we really wanna get pregnant. Just looking for someone to join us in the bedroom — no strings attached. If you wanna help out that'd be awesome but I realize this scares most dudes.
Let's be real for a second here.
A three-way with two women — who in this case have extra motivation to be DTF — is goals for a whole lotta guys, and this dude has received the dream proposition.
But there is a catch, and that catch is too big to just ignore.
The guy posted the chat on Reddit, and I can't work out if he did it to brag or because he was super freaked out.
If only we knew what his next message was because, bro, you should run a mile — then again, logic is worthless when it's a guy who has a chance to get laid.
Citations: Reddit