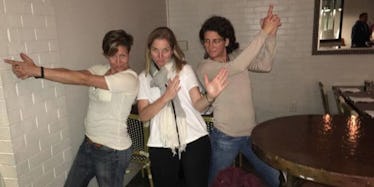 This Epic Story About Three Women Stopping An Attempted Rape Is Going Viral
Facebook/Sonia Ulrich
A trio of California women are getting well-deserved praise after going out of their way to stop a potential case of date rape.
The story begins at a Los Angeles-area restaurant, FIG in Santa Monica, where Sonia Ulrich, Marla Saltzer and Monica Kenyon noticed a disturbing sight.
Kenyon had seen a man pour something into his date's wine while the date was away in the restroom.
In an interview with 7 Eyewitness News, ABC's Los Angeles affiliate, Kenyon said,
I just stared at him and watched something fall from his hand into the glass below. I said, I just saw that guy put something in her drink. We're all like, what do we do?
Ulrich would eventually take action and go to the bathroom, where she waited by the sinks in order to warn the man's date. What happened after Ulrich informed the woman makes the story that much more disturbing.
Ulrich wrote in her Facebook post,
'Oh My God.' [The woman] said. Shocked, kind of numb, so I babbled 'Yeah, my girlfriend said she saw him put something in your drink and we had to say something. Woman to woman...you know. We had to say something. How well do you know that guy?' I was expecting to hear 'We just met,' but I got: 'He's one of my best friends.'
The woman on the date had been working with the man for over a year. And, in what seems to have been part of his plan, the two co-workers drove together to the restaurant, while she left her car at his building.
After Ulrich had returned from the bathroom, Saltzer had already gone to work in notifying the server about what Kenyon had seen.
The best the restaurant could do at the time was allow the woman on the date to order a sparkling water. But eventually, the three women's action paid off.
Ulrich's Facebook page, again, shared the details,
Eventually, they finished up dinner. There was a delay getting their bill 'The computer is down' is what the waiter kept saying to him. Then, in walks Santa Monica PD. They say 'Come with us' and he doesn't protest. Doesn't ask why. Doesn't seem surprised. The head of security came by and said that because we notified them immediately, they were able to go back and review the footage from the security camera.
The Santa Monica Police Department confirmed to ABC7 the man was arrested with not just one, but multiple vials of an unidentified substance in his possession.
It's a story that is both amazing but also horrible in that it serves as another reminder that the majority of rape victims are assaulted by people they know.
One could only hope more people like Ulrich, Saltzer and Kenyon are around to step in when necessary. Here's Ulrich's full post, which has been shared over 85,000 times, with more details.
Citations: WOMEN CREDITED WITH STOPPING DATE DRUGGING IN SANTA MONICA (ABC7), Rape Myths and Facts (West Virginia University)