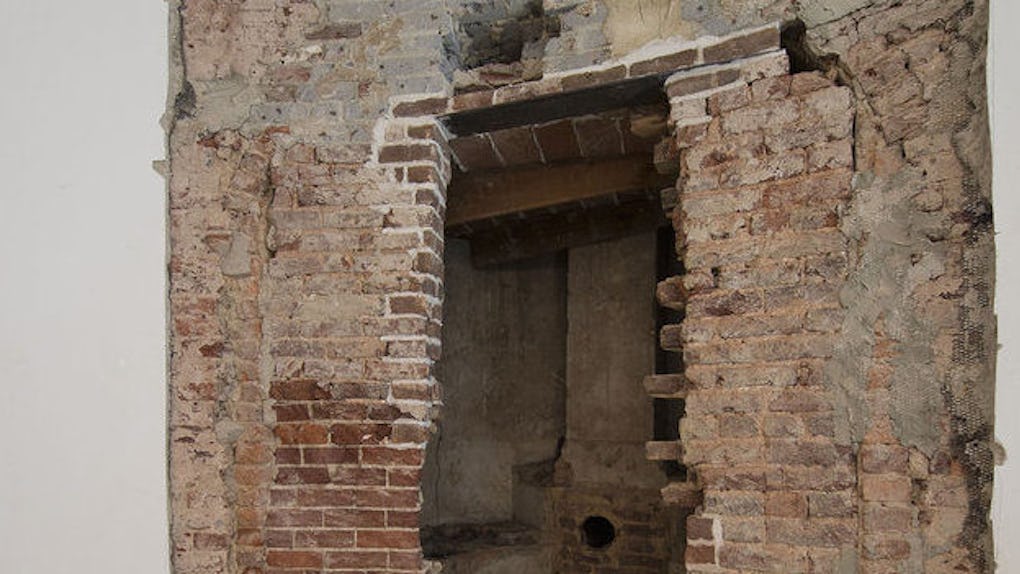 Twitter
Chemistry Lab Linked To Thomas Jefferson Was Just Discovered At UVA
A hidden chemistry laboratory that was likely designed by Thomas Jefferson has been uncovered at the University of Virginia.
NPR reports the project manager of the company renovating The Rotunda, a building Jefferson designed at the university, was inspecting a hole in a wall when he came upon the brick chemical hearth last Monday.
Chemical lab designed by Thomas Jefferson discovered in University of Virginia Rotunda http://t.co/LUC0ONT6HR pic.twitter.com/AgBpc0D3YR — Fox News (@FoxNews) October 15, 2015
According to USA Today, at least one University of Virginia official believes Jefferson had the lab constructed in the 1820s for John Emmet, the first professor of natural history at the school, and helped provide the necessary equipment.
Emmet is thought to have performed demonstrations with the hearth, which contained two fireboxes as well as a ventilation system to eliminate fumes.
Five workstations students used for experiments were also inside the room.
A press release from the university quotes a letter from April 1823 in which Jefferson asks Emmet's classroom be built on the ground floor to avoid having to send water all throughout the building.
Jefferson wrote,
For the professor of chemistry, such experiments as require the use of furnaces, cannot be exhibited in his ordinary lecturing room. We therefore prepare the rooms under the oval rooms of the ground floor of The Rotunda for furnaces, stoves &c. These rooms are of 1,000 square feet area each.
The hearth was walled off in 1850, Huffington Post reports, allowing it to survive a fire that left most of the Rotunda in ruins about 45 years later.
Project Manager Matt Scheidt said the hearth's hiding spot is also the reason it was not affected by renovations to The Rotunda in the 1970s.
Most chemical hearths from the era no longer exist, he added.
In the school's press release, Brian Hogg, a UVA senior historic preservation planner, said,
This may be the oldest intact example of early chemical education in this country.
The laboratory will go on display at the university's visitor center after The Rotunda's renovations are finished.
Citations: Historic Chemistry Lab With Links To Thomas Jefferson Discovered Behind Wall (NPR), UVA Discovers Hidden Chemistry Lab Thomas Jefferson Designed (Huffington Post), Thomas Jefferson's lost chemistry lab found (USA Today), Secret Jefferson-Era Chemistry Lab Discovered in UVa Rotunda (Newsplex), Jeffersonian-Era Chemistry Hearth Preserved in Rotunda Wall (UVA Today)