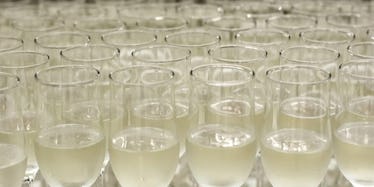 There's A New Kind Of Sparkling Wine, So Time To Re-Fall In Love With Prosecco
Stocksy/Pixel Stories
Drinking hack: You are always classy when you drink sparkling wines because they tend to have fancy names.
Champagne. Prosecco. They just roll off the tongue, and even if it's a trashy $5 bottle, you can at least pretend you're glam AF.
Sadly, the rule doesn't exactly apply with an emerging type of wine -- British fizz.
Maybe, as a Brit, I'm just being cynical about it, but it doesn't scream exotic.
Producers of British sparkling wine (which is actually a thing, honest) have struggled with finding a name as good as Champagne or prosecco, so, of course, they got some help from this side of the pond.
New York bar owner Jason Hicks is the man we need to thank for British fizz because he started using the name on his wine lists.
It was spotted by Bob and Sam Lindo of the UK Vineyard Association (UKVA), who loved the name and are now applying for protected geographical indication status for the term.
If they're successful, sparkling wines made with grapes from England, Wales and Scotland will be the only drinks able to use the name on their labels.
Sam Lindo, chairman of the UKVA, told The Times,
The issue of what to call British wine was on the agenda of the first meeting of the vineyards association 50 years ago and has never been resolved. No one's ever going to agree on the name so maybe we have to roll with the name that people are already using and protect that name before we lose it.
I'll drink to that.
There are concerns, though. Chiefly that people will link it to British wine, a cheaper drink made from imported grapes.
It may not be the fanciest name in the world, but if you ask me, British fizz is miles better than the current name: English sparkling wine.
So, there you go. Soon, you'll (probably) be ditching the grapes from France and Italy in favor of some great British booze.
Cheers!
Citations: The Times