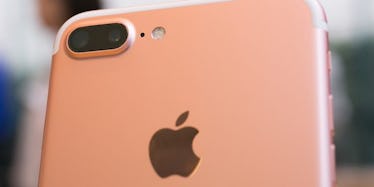 There's A New iPhone 8 Price Prediction And It'll Cost Way More Than Your Rent
Shutterstock
A few months ago, we enlightened you about how much the highly-anticipated iPhone 8 might cost... and the rumored price made our wallets cry a little bit.
In case you didn't hear about the heartbreak, I'll refresh your memory.
According to KGI Securities' Ming-Chi Kuo, Apple's newest release was initially predicted to cost at least $1,000.
Yeah, I know. That's a lot of money -- but it only gets worse from here, my friends.
Let's just say the newest price prediction for the iPhone we've been obsessing over for months will crush your Apple dreams until you hit the lottery.
Based off new rumors, the iPhone 8 might cost more than the rent you pay each month for your college dorm room, or even your tiny studio apartment in New York City.
Before we drop the price, keep in mind the new cost predictions were based off two models of the iPhone 8 and differ depending on storage capacities of the phone.
Simona Jankowski, a Goldman Sachs analyst, predicted the iPhone 8 will be available in 128 GB for $999 and 256 GB for $1,099. She believes the iPhone 8 will not be available in 32 GB, MacRumors reports.
Yup. An iPhone 8 with maximum storage might cost well over a grand -- and if the rumors are true, we can kiss our savings goodbye when the big release comes.
Apparently, a note from Jankowski's research was distributed, and it says,
Relative to the 128 GB iPhone 7 Plus, we estimate the new features and higher commodity prices to increase the bill of materials by over $70, which we expect Apple to offset via a $130 price increase, resulting in a starting price of $999 for the 128 GB capacity and $1,099 for the 256 GB capacity (we don't expect the iPhone 8 to come in 32 GB).
Right now, the most expensive iPhone to date is the iPhone 7 Plus with 256 GB of storage. It costs $969 in the United States, MacRumors reports.
Well, if the newest rumors are true, we better start saving ASAP for the iPhone 8 because this isn't going to be a cheap one.
However, based off the cool features it's predicted to have, I'm sure the price will be worth it.