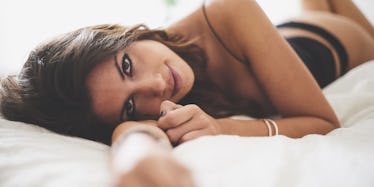 The 'Uber For Escorts' App Pairs You With The Perfect Date, For A Price
Think of it as Uber with benefits.
A new German app called "Ohlala" is giving users the ability to connect with escorts in their area to arrange "paid dates."
The app launched in Berlin on Monday with a scheduled English release to follow.
Ohlala currently only runs off mobile Web, but there are plans to release a faster native version in the near future.
While other dating apps like Tinder hint at possible hookups, Ohlala cuts straight to the point and gives users the benefit of knowing exactly what they're getting into. Someone pays, someone receives money and that's it.
The term "paid dates" is used on the site to refer to these meetups.
Creator Pia Poppenreiter told TechCrunch,
Whatever those two people want to do — may it be to give company at a dinner or end up in bed together — is a private matter and should be agreed upon in the chat before meeting. It's simple: We match people for paid dates immediately. It actually solves problems in this marketplace, that dating sites and most escort sites don't solve: We match expectations, on-demand.
This isn't the first time Poppenreiter tried to bring sex work in the mobile age.
An earlier app she created called Peppr, which was also geared toward connecting escorts to clients, failed to gain traction after its 2014 release.
She claims the issue with Peppr was the lag time between when a client put in a request and when the worker responded.
Without a near-immediate response -- or even one that took less than a few hours -- a user looking for a "paid date" was more inclined to cancel the request after it was made.
Another issue was workers didn't want to be "labeled" as prostitutes; they wanted more control over their profiles.
After getting feedback from women working in the industry, Peppr was deleted, and Poppenreiter went back to the drawing board to create an app offering "on-demand" bookings, better privacy and higher security.
She hopes Ohlala solves those problems.
Citations: This new app is being described as the Uber for escorts (Business Insider)